Over Christmas, a special client requested that Grace make a Sailor Moon doll for a trade.
It's been a huge hit on Etsy so far. So much so, that Grace had a special request come in for 6 dolls from the Sailor Moon cast.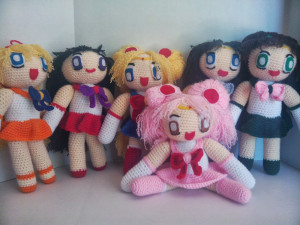 While working on this order, Grace has been updating the first version of the Sailor Moon pattern significantly so that this single pattern can be used to create Sailors Moon, Mercury, Venus, Mars, Jupiter, and Chibiusa.
Grace has said that when she gets it all done in a few weeks, she's going to be sending an updated version to those that have already purchased the pattern, and going to be holding a giveaway to give out 10 copies of this pattern for testers.
Interested in getting a free copy of the pattern? We thought so. If you are interested, leave a comment below with the following information:
Name or other way to identify you
A sentence or two on why you want this pattern
Your experience level in crochet (beginner, intermediate, advanced)
Entrants will be divided into the 3 skill level categories, then chosen at random on April 30th. Grace said she wants a variety of people testing the pattern so she knows it's good for all levels. She'd also like to know why people are interested in Sailor Moon and/or this particular pattern.
Best of luck!
Thank you to all that participated!
The giveaway is closed. We are leaving comments open for discussion, but no more patterns will be given away.