If it felt like August was particularly warm, the National Oceanic and Atmospheric Administration has confirmed your suspicions. New data shows that the average temperature in August was 61.74 degrees Fahrenheit, which was .09 degrees warmer than the old August record of 2015. Furthermore, it was the 16th consecutive month of record-breaking heat.
Overall, this year has been relatively warm. To date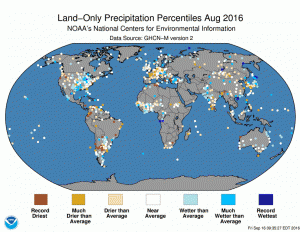 , the average global temperature was 1.82 degrees Fahrenheit above average. And, as for that 16-month streak, it isn't exactly something to be proud of, when you consider the impact on the planet (e.g., ice melting, above-average precipitation). It's also the longest streak in 137 years.
"The needle has been shoved all the way over into the red by greenhouse gases," NOAA monitoring chief Deke Arndt told the AP.
In terms of specific regions, Africa and Asia had their warmest August in history, while South America had its second warmest. This was North America's sixth hottest, and the 10th for Europe.
"Everywhere we look we see signs that the climate really is changing," MIT climate scientist Kerry Emanuel told the AP. "We're getting wake-up calls more frequently and we really have to do something about this."
World Leaders on Global Warming
This news ironically came as global leaders came together to create a climate change pact in Paris. Representatives from 31 countries officially signed the treaty, which now has 60 pledges from countries eying an end to global warming.
However, the initiative isn't exactly off the ground just yet. Although 60 countries have agreed to the pact, their total global emissions only account for 48 percent of the world's emissions. In order for the agreement to become official, it must reach 55 percent. Regardless, many leaders are still hopeful.
"I am convinced that the Paris Agreement will enter into force before the end of 2016," South Korean Secretary-General Ban Ki-moon told the AP.
The world's two biggest emitters of greenhouse gases, China and the U.S., have already ratified the pact. The latest countries to join in are Brazil, Mexico and Argentina. Notably, the European Union is lagging. In total, the EU makes up approximately 12 percent of total global emissions.
"We are trying to accelerate the ratification process," EU Climate Commissioner Miguel Arias Canete told the AP.
And so, the rest of the world will wait, as the planet continues to sweat it out.
---
Sources
Astor, Michael. "Paris Climate Change agreement passes key threshold." Washington Post. Published Sept. 21, 2016.
"Earth smashes yet another heat record; 16th month in a row." Associated Press. Published Sept. 21, 2016.
"August marks ongoing trend of record-breaking heat for the globe." NOAA. Published Sept. 20, 2016.