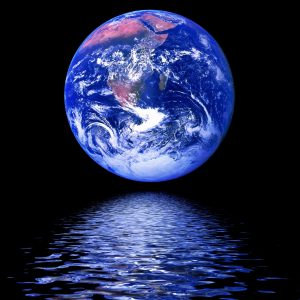 The latest edition of the "State of the Climate" report has been published, and the results don't look good. Every year, the National Oceanic and Atmospheric Administration gauges the health of the planet in its report. This year's edition shows that greenhouse gas concentrations, global surface temperatures, sea surface temperature, global upper ocean heat content, and global sea levels all shattered previous record highs.
"Across land surfaces, record to near-record warmth was reported across every inhabited continent," the authors wrote in the report. "Twelve countries, including Russia and China, reported record high annual temperatures. In June, one of the most severe heat waves since 1980 affected Karachi, Pakistan, claiming over 1,000 lives."
However, the researchers note that exceptional warmth has been driven by El Nino this year and in 2015. They believe this exhibits the connection between climate, nature, and human systems.
"This notion of connectedness—between climate, landscape, and life; between our daily work and the expression of its meaning; between planetary-scale drivers and humble living things; between the abstraction and rigor of data and the reality and complexity of their importance; and especially between one generation and the next—inspires and informs much of the work within this volume," the authors conclude.
However, this does not take away from some of the facts they derived from their research. For example, 2015 was tied with 2002 as the second-warmest year in Alaska since the U.S. began keeping records in 1925. In Chile, June 2015 was the driest June on record, with no monthly precipitation on record. A major heatwave that hit India in the second-half of June was responsible for 2,500 fatalities.
So what can we all do about these findings?
"I think the time to call the doctor was years ago," Deke Arndt, a NOAA climate monitoring chief and co-editor of the report, told CBS News. "We are awash in multiple symptoms."
NOAA scientist and report editor Jessica Blunden was also grim.
"We're going to continue to climb," she said. "And some of the impacts that we're seeing from the El Niño, like these really intense droughts and effects on the ecosystem, these can have long-lasting impacts that can be permanent even, or last for several years or decades."
---
Sources
"Climate scientists' diagnosis of Earth: 'Fever rises.'" CBS/AP. Published August 2, 2016.
D'Angelo, Chris. "The Results of Earth's 'Annual Physical' are a Scary Dose of Deja Vu." Huffington Post. Published August 2, 2016.
Blunden, Jessica. Arndt, Derek. "2016: State of the Climate in 2015." NOAA.gov. Published August 8, 2016.