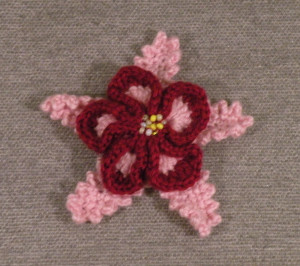 As a collective, we've decided that offering free brooch pins with certain purchases would be a Good Thing. So, after the busy holiday, our fearless captain Grace has been slated to create a whole slew of new brooches. They will be sold individually for charity, as normal, but those who buy shawls, sweaters and purses/bags will find themselves entitled to a few for free (outlined below).
Bags/purses = 1 brooch
Shawls/stoles/caplets = 3 brooches
Sweaters/cardigans/jackets = 5 brooches
Even things this small take time to make. At first we won't have many colours and options available, but we'll have plenty of variety as time passes. If you ever have any requests, post them in the comments box below. We'd really appreciate a list to aim us in the direction of what you want.