In the past we did a transparency report, but then our bookkeeper, Maria, left to take care of her aging parents. I, Grace, tried to keep up all the tasks, but I dropped some balls. I apologise for that as the Monthly Transparency Report was a great way to keep track of what's going on in behind the scenes a little more with Insanitek as well as be open with all of you.
This Month In Review
I think it's important to celebrate small accomplishments. They build up over time, and before you know it success is here. The journey is part of the process, so here are a few accomplishments that we can highlight in the community. All students are under the age of 18, so we use initials instead of names for their privacy.
This past month two students from one family (M.H., A.H.) have progressed in their Insanitek programme. M.H. has leaped ahead in math, and is already at linear algebra. A.H. has gotten past his dislike of communication to be able to explain what he wants to research.
One other student, M.D., has really gotten inspired by the power of journalling both her personal thoughts and her reflections on her studies.
Travis Beiersdorfer, an engineer and inventor, has come up with an interesting idea to help his family orchard. He wants to use the dropped apples to make a brandy. Granted, there are a few issues that he has to confront along the way, such as finding a yeast that converts fruit sugars readily.
'Course, we strive to serve in a few different ways. Every way takes a bit of energy, money, and even a bit of luck. We've worked with students every weekday this month. We've also worked on some science communication via INK.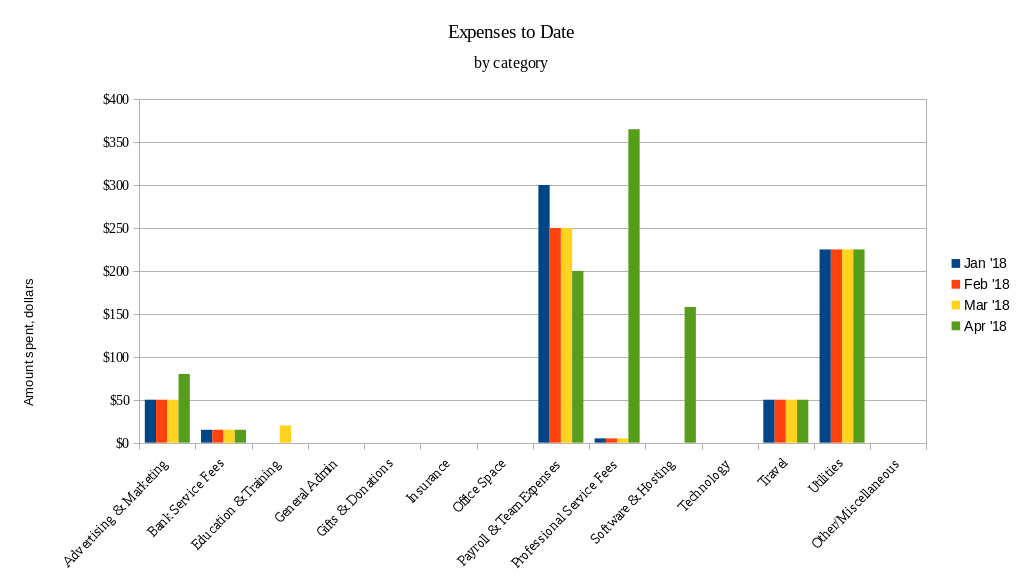 One of our goals is to continue to serve, so we've been upping our advertising and reach in order to help people. Mostly on Pinterest to help homeschoolers integrate interactive journalling into their curriculum so they can really dig into science.
Of course, you'll see that we spend a lot of money on fees to keep things running. Banks take a little money, so does all the software we use (email service provider, etc.). Travel is how much money I spend on petrol to get to and from student's houses. That random spike in Professional Service Fees is our annual spend on DeepDyve, a research journal rental service. This way we can access, read, and cite a variety of science papers in our work here on INK.
It seems like we spent less on payroll this time because one of our freelance writers, Karen, got way ahead in January, but then slowed down as her teaching schedule ramped up, the writing slowed down. It happens. (We crave reading more of her eclectic pieces, and can't wait for her to get back, though!)
What Worked, What Didn't
We would always like to help more people. What can I say, we really like helping people understand the world around them and accomplish their goals. So, we set a goal to reach 1% more people via social media. Our goal was to listen, help get them what they needed and wanted, and (hopefully) grow our audience. We reached this 1% goal, and our readership has grown both across socials and here on INK. (Heyo, all! You make us happy!)
We had also set the goal of getting up to chapter 5 in our physics interactive journal guide. And… we failed. As of today, we've finished the first three chapters. We spent entirely too much time trying to experiment with hands on exercises that would allow homeschoolers to explore the different areas of motion in an affordable way. Which also means that a school lab should be able to use these and not break the class budget. WOO!
Believe it or not, we didn't set a whole lot of goals for April. We were too busy teaching, creating a physics curriculum, and having a few laughs with the students as we beat the end if winter blues.
Next Month's Goals
Once again, we want to help more people, so we're going to look at growing our audience by 1% across socials, but more importantly our readership here. To do that we're focusing on hashtags for Instagram, talking to people via Facebook and Twitter, and better images for Pinterest. But, to gain readership here, we'll be linking more of our own pieces.
But… that comes at a caveat.
We need another writer!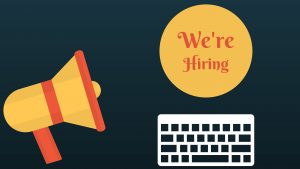 So, a major goal we want to accomplish in May is to hire another freelance science writer to add to the dimension of the site. Areas we could really use are:
Interview a scientist/inventor/engineer and get their stories about their projects and bloopers they've encountered.
Technology/engineering blog posts on how things work
If you're interested, check out our writer's FAQ for how things roll around here.