This giveaway is not a basic giveaway. It's an unrecognised gem for true astronomy lovers. This card game is anything but a classic. It's a unique game that never made it in the educational world ─ probably because it was full of nerdy facts about astronomy. This card set has information and challenge questions about things they never teach in school.
That's why this goes out to a special astronomy fan that wants to know it all and take it all the next step further.
Is that you?
Here's what in this one of a kind game: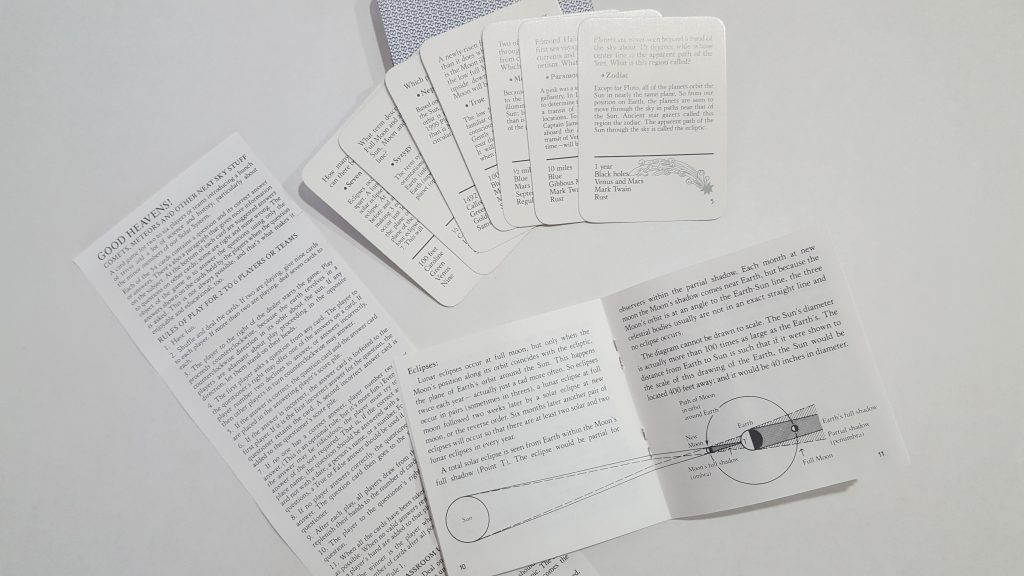 A set of instructions, a booklet with some basic information and diagrams, and 54 cards worth of challenging facts.
Most people now a days are whimps when it comes to the idea of a challenging question https://farmbrazil.com.br. This set was made before we lightened up as a society on that mark. So, when we say challenging, we mean challenging. Check out these 5 cards.
You've got an easy question with the eclipses, a history question with Mr. Jefferson, a challenging question about some of your fellow astronomers with the comet hunter and Halley, and some vocab that only the truly enlightened will know.
The stuff at the bottom?
Those are suggested answers to questions on other cards.
If that's not a challenge for any budding astronomer to hone their skills on, I don't know what is.
Are you ready to test your mettle?
There are 6 ways to enter this challenge. First, leave a comment down below with topics, challenges, giveaways, or anything else you'd like to see covered here on Insanitek. This matters to us a lot and makes sure we're useful. That's why it's necessary to unlock the other ways to enter.
After that, you'll have a chance to do a few easy things, such as following us on our various socials. But, if you want to really win this, show your love of astronomy by writing a blog post and sending us the URL. If it's well researched and cited, we'll share it on our socials as well.
Competition ends on 31.Jan.2018 at midnight ─ how many blog posts can you write in that time? ;P
Good luck!