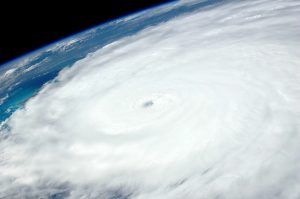 So far this season, we've already seen what kind of devastation hurricanes can cause, but many people are still unaware of what makes these storms so powerful. Furthermore, it's worth asking: are we in for more of the same throughout the rest of this hurricane season? Let's take a look at the answers to these questions, as well as some fast facts on hurricanes and what makes them tick.
Is the 2018 Hurricane Season Supposed to Be a Big One?
According to the National Oceanic and Atmospheric Administration's Climate Prediction Center, it may not actually be that bad (relatively speaking, of course). As of August, there was a 75 percent chance hurricane season would be "average" or "above average." However, the summer was relatively quiet, which led some forecasters to scale back their predictions (Godlewski, 2018).
When is Hurricane Season?
The 2018 hurricane season began on June 1 and it officially ends on November 30.
Why Has This Hurricane Season Been Slow to Ramp Up?
Scientists agree that this hurricane season has been slow to ramp up because the Atlantic has been a bit colder than usual. In addition, atmospheric winds have not been favorable for hurricane formation until now (Resnick, 2018).
What is a Major Hurricane?
A "major hurricane" is used by the National Hurricane Center to describe hurricanes that reach maximum sustained 1-minute surface winds of at least 111 miles per hour. This is the equivalent of a category 3, 4 or 5 storm ("Frequently asked questions," 2018).
What are Storm Categories?
Storm categories (1-5) are based on the Saffir–Simpson scale hurricane wind scale. The largest possible storm may have excess winds of at least 157 miles per hour (category 5), while the smallest possible storm may have winds of up to 95 miles per hour (category 1). The Saffir–Simpson scale was developed in 1971 by civil engineer Herbert Saffir and meteorologist Robert Simpson, who at the time was director of the U.S. National Hurricane Center.
What Should I Do During a Hurricane?
Ideally, you should always follow mandatory evacuation orders in your area and stay up to date on where your local shelters are situated in case you need to take cover. If you are staying at home during a hurricane, stay inside and away from windows, skylights and glass doors. If flooding is a possibility, turn off the electricity. If your home loses power, turn off major appliances ("During a Hurricane: How to Be Safe," 2018).
References
"During a Hurricane: How to Be Safe." HurricaneScience.org. Retrieved Sept. 11, 2018, from http://www.hurricanescience.org/society/risk/huricanesafety/
"Frequently Asked Questions." Hurricane Research Division. Retrieved Sept. 11, 2018, from http://www.aoml.noaa.gov/hrd/tcfaq/A3.html
Godlewski, Nina. "Hurricane Season 2018: NOAA Predicting Less Severe Season than Originally Expected." Newsweek. Retrieved Sept. 11, 2018, from https://www.newsweek.com/hurricane-season-2018-predicting-less-severe-1081237
Resnick, Brian. "Hurricane season 2018: what scientists are predicting." VOX. Retrieved Sept. 11, 2 018, from https://www.vox.com/science-and-health/2018/5/31/17406078/hurricane-season-2018-what-to-expect