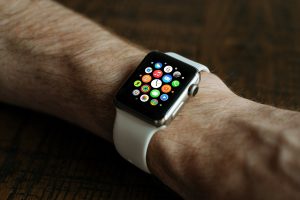 On September 12, Apple revealed its lineup of its most recently refreshed products. While most attention was arguably given to three new iPhones, the company also revealed a brand new watch.
It's worth noting that Apple has a line of watches, and this is just the latest in its series — the Series 4 Apple Watch. No big deal, right? Well, it's a big deal for those who care about their health, and not just for tracking purposes. CEO Tim Cook and Co. wowed the crowd with news of the product's clearance from the U.S. Food and Drug Administration, and received applause for many of the watch's new features.
But what exactly can the watch do for your health? Is it worth having one of these devices on you at all times for tracking purposes or safety?
Features of the Apple Watch Series 4
Most notably, this watch received clearance from the FDA, and it is the first product of its kind to receive it. But why does it require FDA clearance in the first place?
This watch is embedded with sensors that allow it to take an ECG, or electrocardiogram, to monitor one's heart
"In my experience, people often report symptoms that are absent during their medical visits," said American Heart Association President Ivor Benjamin at the event. "The ability to access health data from an on-demand electrocardiogram or ECG is game-changing, especially when evaluating atrial fibrillation — an irregular and often rapid heart rate that can increase a person's risk of stroke, heart failure and other heart-related complications."
However, it's worth noting that the FDA warns that the watch and the Apple app that accompanies it is not meant to provide a diagnosis.
Another feature of the Apple Watch Series 4 is its ability to detect a fall. This means that if a user takes a plunge and does not move or get up within a certain amount of time, the Watch is smart enough to call for help.
Finally, the Watch comes with some of the same features its predecessors came with before, such as a heart rate monitor. This model, however, can notify users if their heart rate is too low, which is a new feature.
Do You Need an Apple Watch?
The Apple Watch Series 4 starts at $399, meaning you better really, really need it (or at least want it very badly) if you're going to splurge. But is it worth it for the features? If you're into health data and this type of personalization via technology, it might be. Ultimately the decision is up to you, your lifestyle, and your wallet.
References
"Apple Watch Series 4: What You Need to Know." ChannelNewsAsia.com. Retrieved Sept. 13, 2018, from https://www.channelnewsasia.com/news/world/apple-watch-series-4-what-you-need-to-know-10716778