March was a slow time in many regards. Slow in spending, slow in growing. We spent the month trying to recoup our financial padding after purchasing Instapage software, planning, and increasing our marketing efforts. This year is, frankly, the first year we've tried to do any sort of real marketing. Since we want to be transparent about all of Insanitek, we will be adding a section to this transparency report to briefly explain it, but once we get data back from our efforts, we'll post a full report with results on just that.
Marketing
Our first marketing method came about by accident, really. We read papers a lot here, and some of them are utter rubbish, while others we quite enjoy. We started thinking we should spread the word about the ones we found really invaluable by making an infographic of the paper and spreading it around for the general public.
We quickly got overrun by our own enthusiasm and decided to make a monthly drawing out of it. Well, we've gotten burned by authors not participating in an interview before, so we decided to email them first and ask them if they'd be interested in this. When we email them, we also send them a physical flyer of the infographic service and give them a link to the landing page that explains more.
It didn't occur to us to tweak the landing page for a potential client until later. Now, we are optimising the landing page and emails to see if we can use this as a marketing tactic while truly serving our community of researchers and the general public.
An email costs nothing. The time is barely worth noting. The most cost to this effort is to be courteous enough to send them a hard copy of the flyer. It costs 50 cents, which is generally not wasted. However, it is worth noting that the United States Postal Service is pretty xenophobic when it comes to address written according to the receiving country's standards. If it isn't written in American convention, they claim there is not enough info and send it back wasting our money.
But now, onto expenses.
Revenue
Revenue is up $33 — without the use of Brightwood, one client taking a week off, and Grace missing a couple days with another client due to migraines. Since we can say we didn't have any extra sales on e-books or courses, we can say this comes from Grace working an extra day with a client.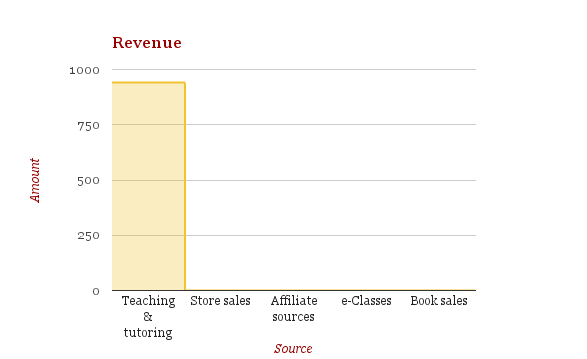 Expenses
This is where things get a little bit hairy. We had our normal expenses to the subcontractors, bought some chemistry supplies, and had an unexpected expense for our PO box. Go figure we would have the month it was due written down wrong and it would come at a really bad time financially speaking. For the most part, though, the spending was slightly compared to what it could have been.
Our biggest expense was shipping for the Fun-Raiser Giveaways. We tried it two months in a row, but we did not have enough activity to warrant doing too many giveaways a year. So, instead of doing one a month like we planned, we are cutting it back to one a quarter. This way we can still do amazing, valuable, and high quality gifts for our community without breaking our bank account.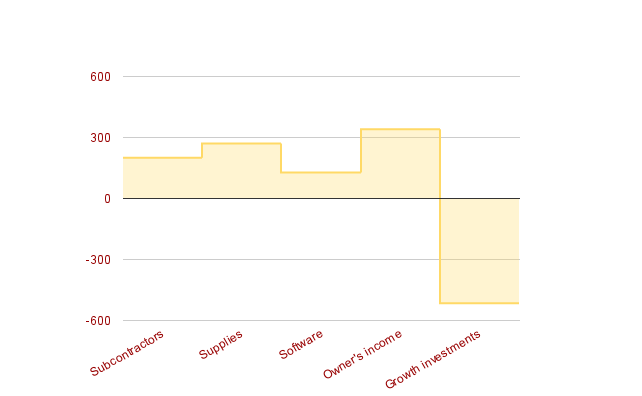 Next month's goals
Obviously we are going to keep on with the marketing trial and see if we can't sell a couple infographic services. That would certainly make for a fun change. Grace is also trying to work with different clients that will pay more. Some of our current ones just can't afford to pay what she would need to work with them one one one. They are already starting to baulk at $20 an hour, but to make this work financially, she would have to charge them all a minimum of $30 to make things work. It's time to start seeking out other revenues and finding ways to serve these clients in a way that is beneficial to both.
We also know that one large expense is coming up at the end of next month or so. Insanitek has the pleasure of sponsoring Andrew McDonald's first book, Possess Your Success. Andrew wants to give away 1,000 books to disadvantaged high schools across the country and speak to these kids as well. Grace has read the book, and it's currently in Alesi's hands. It's a very inspiring book with lots of potential to encourage people to really do what they need to do to succeed. Everything from defeating negative thoughts to applying their knowledge and moving up in the world. We're proud to sponsor it and give $500 to the cause.
And then, we have some other news. Insanitek is two years old, and it has finally reached a financial maturity point where the IRS wants a chunk of the money. This year we owe the Federal government $142. That check comes out next week, so it will go on next month's expenses. We'll also have to take out some money every month to save up for that next year.
Other than that, we are keeping it on the low, even keel mode here at Insanitek. Grace isn't working at Brightwood, so the cash isn't as plentiful. Perhaps our infographics will serve us as well as they do the rest of the world.