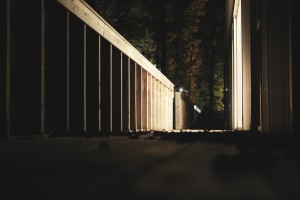 When students wander around campus, they aren't looking at people judgementally and wondering if their fellow classmates are homeless. In fact, they generally assume all students are not homeless. I, personally, can attest to that with my own story, but it never occurred to me to look beyond myself to others that might be in a similar predicament. Luckily, psychology students from Franklin and Marshall College did look beyond themselves and into this very little discussed issue.
I had the pleasure of interviewing the students that conducted the research below for their impressions on their research. Betty Chen, Ashley Christopherson, and Peter Mikoski chatted with me on the phone, while Andrea Solis was out sick for the interview.
The group got interested in this topic when their professor told them that there were 12 homeless college students right there on their tiny, liberal arts campus. After that, they went from interested, to really interested. Ashley notes,
"Not much work has been done in this area. There isn't a lot of literature on the topic, so we thought it was pretty cool that we'd be able to help lay the groundwork for this topic and potential future research."
So, this group sought to talk to homeless college students about their experience. As you can see in the paper, there is a different story for each person they talked to. Everyone's story has a different beginning, a very different middle, and a different end. However, as Peter notes, every person they interviewed showed and underlying sense of determination, they all have passions they follow, and they don't dwell too much on the problem.
As the paper explores the state of homelessness and what the students went through, Betty notes that the main purpose of their research was to make people more aware of the situation and open up an avenue of discussion.
"The logical place to start in helping homeless college student is to bring awareness that any student on campus could be homeless. We just don't know. It would be helpful to have discussions like we do for other topics to talk openly about homelessness and how we can help."
If listening with an open mind is how we start helping homeless college students, what's the next step for the researchers and the research? Ashley weighed in saying that their next step was to get this paper published, which will hopefully inspire others to do similar research to collect information about homeless college students across America. She also hopes that the topic of homeless college students will expand beyond psychology and into other areas of research, such as policy.
The researchers would like you to leave with the following wisdom:
Betty: Be more aware, avoid stereotypes, and don't blame homeless students for anything; it's often not their fault. Instead, try to be helpful.
Ashley: Everyone on campus has a voice, so don't be afraid to use it. If you are homeless, seek help. If you know someone who is, reach out and help them.
Peter: Walk away with curiosity and lodge this information in your head. Don't let it stop here.
Read their paper here by clicking the image below.