Science communication is an interesting profession. You can choose to communicate with writing, dance, or many other mediums -€" including fine art. You don't even have to start in science. I had the honour of sitting down with Michelle Hunter, a New York contemporary artist with an eye for science. Michelle is an artist that combines her love of science, her curiosity for the brain, and her passion for art into one business, Hunter Art, which explores neuroscience and expresses what she learns with a creative and liberal use of paint.
Michelle's art is contemporary in style, full of humour and thought-provoking concepts. When you look closer, it's also full of science. Michelle takes people on a journey of knowledge starting with a witty or interesting piece of art, such as the crowd favourite, Caffeine Headache, which features a brain in a cracked and steaming cup.
You can see this by checking out her portfolio website, then browsing the drawings and paintings. On her website digital images of the paintings there is a €œ"learn more" tag, which links you to her blog that discusses her inspiration for the piece, the reason behind choices, and discusses the science facts that inspired the details. And, yes, she even go into some of her process so you can see the true work behind the inspiration and genius.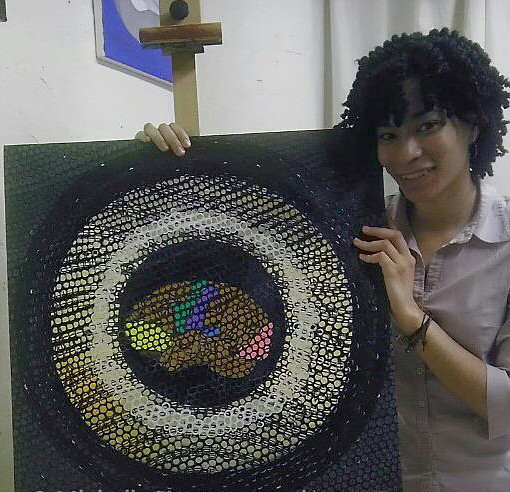 How does she balance all those interests? Michelle has been interested in art since she was little. She's always found her strength through art as well as enjoyment. Like all kids, she was encouraged to find a stable career path in case art didn't pan out, so she went to school for business. Her love of science, however, started with an itch of curiosity.
€œMy mother always thinks in the past. She tells me stories of things I did when I was four or ten to remind me of the way I used to be. I always thought that was just the way she thinks. But then, I wondered why. Was there something different about her brain that makes her think that way?
Michelle began to answer her own question by looking through science blogs, such as Popular Science. The more she learned, the more she shared, and the more she shared interesting articles, the more people shared with her. Michelle wanted to know more about the brain and how it works, which led her to learn more — both in terms of depth and breadth. Eventually, she looked for themes, or cause and effects, such as what happens to the brain when we drink, smoke, or a crowd favourite, drink too much caffeine.
This accumulated knowledge is what she would eventually come to share in her art.
œLearning about science doesn't have to be intimidating. I learned this from watching Bill Nye [the Science guy] perform an incredibly complex experiment, but explain it so simply. That's what explaining it can be like.
Michelle's work is inspiring for the field of science communication, but also for everyone who has ever wanted to do more with their work, no matter their field. Her final message to her audience is:
Don't be afraid of your whole mind. Take some time out of the day to recognise how you think and how you feel. You'll be a much stronger individual.
Feature image: Michelle's 2010 painting "Past, Present, Future or Dreaming".