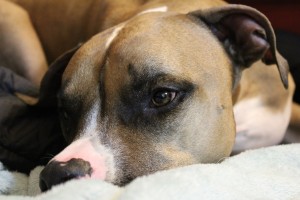 What would you do if you suddenly lost a beloved pet?
One couple decided to come to terms with their grief with a revolutionary method — cloning. Laura Jacques and Richard Remde of the UK recently decided to clone their dog after it passed away, according to U.S. News and World Report. Their original dog, which was a Boxer, had died after developing a brain tumor at the age of 8.
Named Dylan, the pet was beloved by the couple — so much that they have now cloned him to allow his memory to live on. However, the choice cost the couple $100,000.
In order for an animal like Dylan to be cloned, DNA samples need to be sent to the Sooam Biotech Research Foundation. This organization commercially clones dogs for people, just like Jacques and Remde, who want their pet to carry on in another form after death.
For $100,000, you can have a clone of your very own dog. We have officially entered the future.
Hundreds of dogs have been cloned by Sooam Biotech, which is the first of its kind in the world. However, Dylan is unique — his DNA sample is the oldest ever harvested from a dog. The couple's pet initially passed away in June 2015, and the lab did not receive his DNA for two weeks.
Once the company had the DNA, they turned to surrogate mothers in July to begin the cloning process. The puppies and descendants of Dylan were officially born on December 26, 2015. They've been named Chance and Shadow, and they have social media accounts showing their growth beginning from puppy-hood.
Chance, Shadow and their two mothers will join four other dogs and 11 other animals at the couple's home in the UK. However, the news of their cloning hasn't come without controversy. The foundation responsible for cloning the dogs is led by Hwang Woo-suk, a researcher who was convicted of embezzlement in 2009, according to CBS News. Woo-suk also allegedly bought human stem cells for his research.
However, the foundation has come a long way since its humble beginnings when it cloned its first dog in 2005. Over the years, Sooam Biotech has also cloned hundreds of pigs and cows. Additionally, it continues to bring happiness to people like Jacques and Remde, who see no problem with cloning a deceased loved one.
Are these types of scientific advancements really that bad?
---
Sources
Dicker, Rachel. "British Couple Spends Nearly $100k to Clone Their Dead Dog." U.S. News and World Report. December 29, 2015.
Mastroianni, Brian. "Couple pays almost $100,000 to clone late dog." CBS News. December 28, 2015.