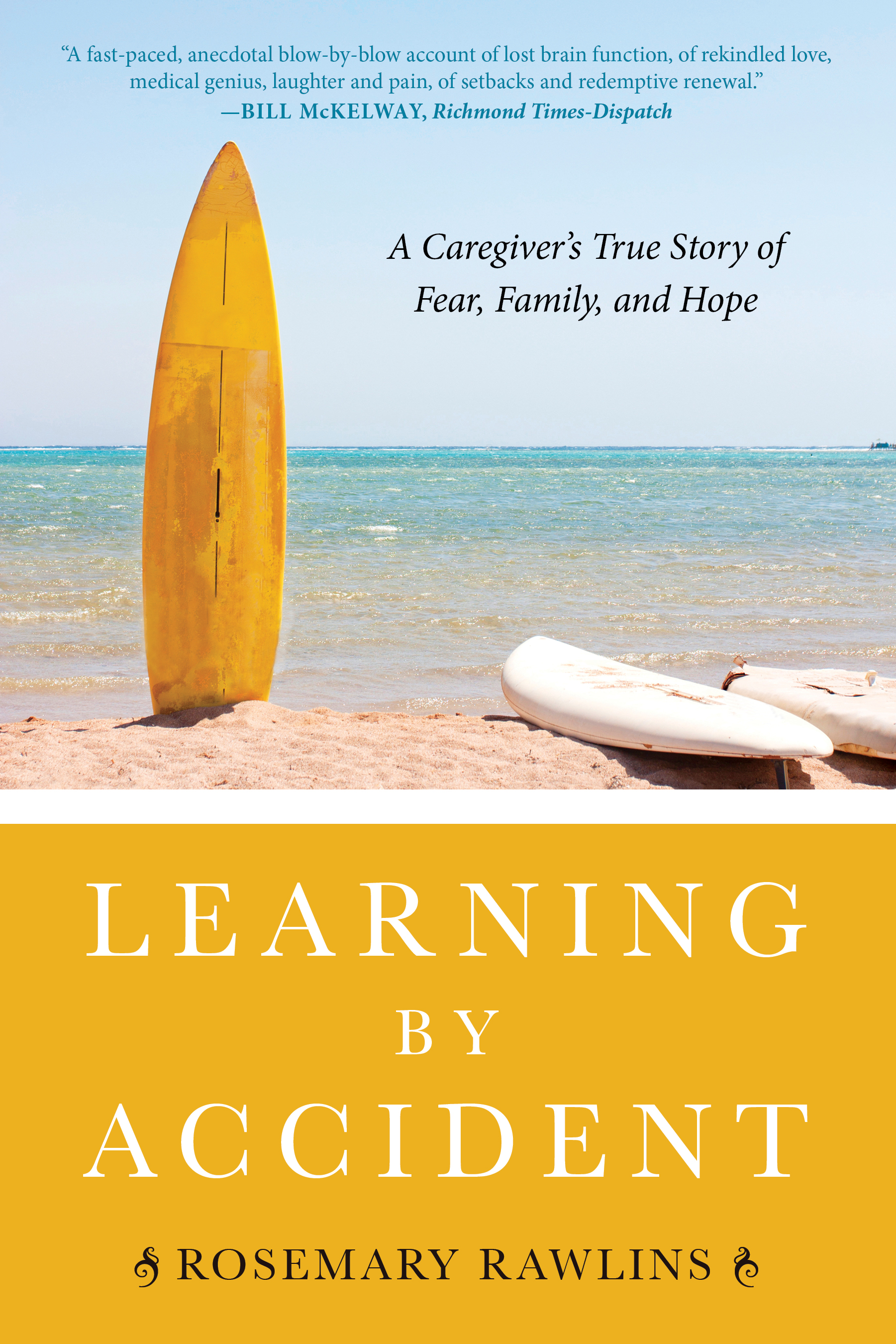 Learning by Accident by Rosemary Rawlins
My rating: 4 of 5 stars
Disclaimer
I wanted to read Rosemary's book Learning by Accident for research on all aspects of brain injuries. Rosemary's book was to serve as a starting point for me to understand the caregiver's role and the stress they undergo, but it turned out to be so much more than that. First off, I am reviewing an ARC copy before it's released. However, I'm under no obligation to give a good review to help sell the book, just an honest one. Secondly, while I learnt what a caregiver goes through after a brain injury, I also got insight into the whole medical and rehabilitation process.
Story
This is Rosemary's story that starts April 13th, 2002 with a heart-wrenching scene of her husband's accident. Over the first 50 pages you get the feeling that you are there. You see the accident, you feel the pain of uncertainty when the doctors give their initial, reserved prognosis, you feel angry that it happened in the first place, but more angry that the driver that hit Hugh didn't even care that she ruined a life.
After the first 50 pages or so,it's like a whirlwind adventure where you're crying for their loss one minute, cheering on their feats the next. I found myself cheering every time Hugh pushed past his limitations, groaning every time there was a setback. I could feel the turmoil that Rosemary was going through watching her best friend, lover and soulmate struggle to get back to a place where he felt alive.
The most disturbing part of this book for me was not reading the emotional details of the accident, but the appalling way that our justice system let the reckless driver off the hook with nothing more than a settlement. It's horrifying to know that someone can flippantly run over someone, nearly killing them but destroying their lives and they won't have to pay fines, go to some sort of rehabilitation, or anything.
Thoughts
It had to have taken a lot of courage to write this book. It's very emotionally raw; you can feel every panic attack, every sense of foreboding, and every joy equally. Yet, at the same time you're feeling these feelings along with Rosemary, you're also sensing hope that is moving just under the surface carrying her and her family along through the tribulations.
During this book I learnt what it meant to truly care about someone and work with them through even a devastating brain injury. I also learnt the remarkable powers of the brain — I would not have thought that Hugh could recover as he did, but then again, he blew everyone away. I think it has a large part to do with the family's determination to work through it, their friend's determination to help out, and Hugh's and Rosemary's dedication to getting through it and being happy on the other side.
Learning by Accident is a truly inspiring book that shows the value of life, love, hope, family, and friends. It's made all the more inspiring because it's true.
Get your copy on
[button size="small" type="warning" value="Amazon" href="http://www.amazon.com/gp/product/1628737778/ref=as_li_ss_tl?ie=UTF8&camp=1789&creative=390957&creativeASIN=1628737778&linkCode=as2&tag=insanitek-20″][button size="small" type="success" value="Barnes & Noble" href="http://www.barnesandnoble.com/w/learning-by-accident-rosemary-rawlins/1117686910?ean=9781628737776″][button size="small" type="danger" value="Indie Bound" href="http://www.indiebound.org/book/9781628737776″][button size="small" type="info" value="Books a Million" href="http://www.booksamillion.com/p/Learning-Accident/Rosemary-Rawlins/9781628737776?id=5800282406411″][button size="small" type="primary" value="Walmart" href="http://www.walmart.com/ip/27382180″]