What if you could find out which diseases you may have through a breathalyzer test? As it turns out, scientists believe we may not be far off from this possibility.
As researchers explain in a report published in ACS Nano, exhaled breath contains nitrogen, carbon dioxide, oxygen, and small traces of more than 100 other chemical components. Working backward, they were able to find the unique "breathprints" of several diseases. From here, they developed a device that could analyze breaths to classify and diagnose the diseases.
The researchers tested their device on 1,404 people who were relatively healthy. In blind experiments, the product appeared to be about 86 percent accurate. The Nanoarray, as it's been named, could discriminate between different diseases and detect them in participants. Furthermore, it proved that each disease has its own "breathprint," and one cannot rule out another.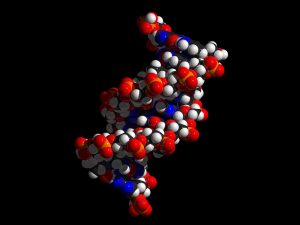 "Cluster analysis showed a reasonable classification power of diseases from the same categories," wrote the authors in their report.
Now, the researchers believe their device can be expanded upon for further development. In the future, a product like the Nanoarray may become an easy-to-use, inexpensive device for medical professionals. However, recent developments in science have already proven that it's always a good idea to take a closer look at these types of methods.
The Rise and Fall of Theranos and 23andMe
Theranos founder Elizabeth Holmes proved that sometimes, medical advancements are really too good to be true. Her company claimed it could conduct a wide range of medical tests with just a few drops of blood. However, an investigation led by the Wall Street Journal revealed in 2015 that Theranos had been overselling its methodology and essentially lying to the public.
Theranos' tests had actually produced dramatically different results than traditional methods. Furthermore, uncovered internal emails showed that the company had been attempting to hide the inconsistencies of its product.
The company, 23andMe, also made headlines in early 2014 when the U.S. Food and Drug Administration stepped in to stop its marketing process. The business had been told to stop promising customers it could essentially diagnose diseases and conditions by providing information on 248 genetic traits.
While it isn't wrong to be hopeful in the case of a product like Nanoarray, it's premature to assume anything more or less without cold, hard facts.
---
Sources
Downes, Larry. Nunes, Paul. "Regulating 23andMe Won't Stop the New Age of Genetic Testing." Wired. Published Jan. 1, 2014.
Carreyrou, John. "Hot Startup Theranos Has Struggled with Its Blood-Test Technology." Wall Street Journal. Published October 16, 2015.
Stockton, Nick. "Everything You Need to Know About the Theranos Saga So Far." Wired. Published May 4, 2016.
Nakhleh, Morad. Amal, Haitham. Jeries, Raneen. Broza, Yoav. Aboud, Manal. Gharra, Alaa. Ivgi, Hodaya. Khatib, Salam. Badarneh, Shifaa. Har-Shai, Lior. Glass-Marmor, Lea. Lejbkowicz, Izabella. Miller, Ariel. Badarny, Samih. Winer, Raz. Finberg, John. Cohen-Kaminsky, Sylvia. Perros, Frederic. Montani, David. Girerd, Barbara. Garcia, Filles. Simonneau, Gerald. Nakhoul, Farid. Baram, Shira. Salim, Raed. Hakim, Marwan. Gruber, Maayan. Ronen, Ohad. Marshak, Tal. Doweck, Illana. Nativ, Ofer. Bahouth, Zaher.  Shi, Da-you. Zhang, Wei. Hua, Qing-ling. Pan, Yue-yin. Tao, Li. Liu, Hu. Karban, Amir. Koifman, Eduard. Rainis, Tova. Skapars, Roberts. Sivins, Armands. Ancans, Guntis. Liepniece-Karele, Inta. Kikuste, Ilze. Lasina, Ieva. Tolmanis, Ivars. Johnson, Douglas. Millstone, Stuart. Fulton, Jennifer. Wells, John. Wilf, Larry. Humbert, Marc. Leja, Marcis. Peled, Nir. Haick, Hossam. "Diagnosis and Classification of 17 Diseases from 1404 Subjects via Pattern Analysis of Exhaled Molecules." ACS Nano. Published Dec. 21, 2016.