Many times when working across fields, there is a lot of miscommunication, misapprehension, and misunderstandings. Sure, there may be an overlap in ideas, but it's the nitty-gritty details that trip people up. This poor fellow had a classic case of what a lot of interdisciplinary people feel when they are just starting out: lost for words.
Sometime between my undergraduate years and graduate student years, I met a rather distraught looking fellow at the bus stop. In a show of compassion, I asked if I could help with anything. He, in turn, asked, "What's your major?""Anthropology and geology," I managed to stammer out in confusion.
"Oh, good. Tell me if this makes sense to you." He then went on to describe his research with painstaking care. I got the general idea that he was a math graduate student working in horticulture. He was doing a statistical analysis on a particular tree. I told him as much, then was surprised by his relief.
I've been there myself. It's like talking in a foreign language that you're not fluent in. You have the idea in your head. It may be a picture, or a phrase in your own language, then you try to translate it to their language. The general concept may be there, but it may not. The audience may get the general stuff, but then get caught up in a detail they don't understand. In this fellow's case it was trying to explain to mathematicians why climate, soil, and other factors are important when considering the best approach, mathematically speaking. In my case, it's understanding what is important to each field, then communicating it across lines to the other field.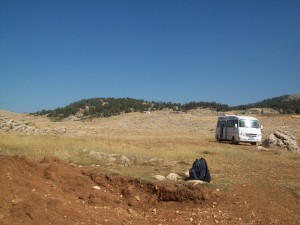 This past summer in Turkey during an archaeological survey is a good example. I am a soils person. I love to dig in the soil, collect and analyse the samples, and then tell the stories that the soils tell me. We were looking for a correlation between the cedar trees being deforested and population decline in ancient Roman times. When our PI explained to me that they were looking for pollen data from cedar trees in order get an idea of the date of the cedar forest deforestation, he said it in all geomorphology terms. When the archaeologists arrived a few minutes later, he explained the same thing, but in terms of cultural decline, not deforestation. I happened to be on the fringes studying maps when I overheard this, and found it intriguing how he explained it differently to me, as a geologist, and differently to the archaeologists.
Even though "speaking interdisciplinarily" is often challenging, it is a good thing. I have found that by being able to describe things to people outside of my field, I have become more succinct, clear, and understandable. My research goals are simplified and well defined because it gets the point across better, and this, in turn, helps grant writing much easier and – so far – more successful.
Do you have a story of working across different fields? How about a parable of your own? What have you learnt from your struggles?