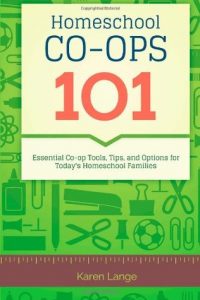 Editor's note: This post has been updated and broken links removed. Please see our policy on broken hyperlinks for more.
Disclaimer: I received an advanced reader copy (ARC) copy of Homeschool Co-ops 101 for free as part of a book blog tour. I accepted in order to help out people that are turning away from public and private schooling and thinking about homeschooling their kids. I am under no obligation to give a good review, just an honest one.
Now, I need to be clear here. I got an ARC version of this book. An ARC version may not have everything that the final book has; ARCs usually have typos or the layout changes as well. Keep this in mind when reading my review.
Summary
Homeschool Co-ops 101 is an introductory book on what homeschooling co-ops really are, what to expect, and some tips on how to deal with the reality of them. The book also includes tens of pages of activities that you might also bring to your own homeschooling co-op.
At a glance you'd see that it has 67 pages of text, followed by 4 pages of resources. However, upon closer inspection you'll see that it's divided into two sections. Section 1 is essentially an informative pep talk. However, unlike most pep talks, Lange doesn't sugar coat the realities of life and tells you pretty much what you're going to be dealing with when it comes to homeschool co-ops, and encourages you to keep trying.
Analysis
One thing I noticed about the pep talk section, besides blunt honesty and support, is the sheer amount of variety that Lange talks about. There are small groups, medium groups, and large groups. Some run like schools, others like a more structured party with friends. Lange doesn't shy away from the pros and cons of each element, and what you're likely to go into. The thing that sticks out most of all, though, is that it Lange's experiences show through in her words without being judgemental about which is her favourite option.
Section 2 consists of 39 pages of lesson resources. The first 5 pages are individual exercises that can act as a standalone exercise or as inspiration for making your lessons from it. The next 33 pages consists of whole lesson plans and unit study ideas for a wide array of topics. This is followed up by 4 pages of resources for more ideas, help, and requirements needed to ensure your child has the best chances in life.
While the second section is by no means inclusive, it does give quite a few great ideas for exercises, lessons, ways to integrate them into the bigger academic picture. As I was reading through them, I was thinking of various ways I could integrate some of these into the hands on museum curriculum. I cannot say that I was left wanting for ideas to spark my teaching creativity. All of the lessons and plans were high quality, fun, and quite usable as they are with plenty of room to tweak and make it individualised.
Thoughts
Homeschool Co-ops 101 is a good place to start for newcomers to both the homeschool scene as well as advanced educators. It gives more than a bit of encouragement to newcomers, which is awesome since nothing is sugar coated about the hardships you will likely encounter along the way.
I have been teaching for 13 years at hands on museums and in my own classes, and I found the exercises to be a refreshing take on lessons I've taught before in the past. I found that many of the unit ideas and lesson plans sparked my creative processes, too, and got me thinking about how I can tweak some of the "standard" things the museum gives us to work with.
What Homeschool Co-ops 101 is not, is an in-depth book of the ins and outs of the homeschool system. If that is what you're looking for, you won't find it, and I'm not sure you'll ever find one that is accurate. After all, homeschooling is what you make of it, whether a co-op or not.
Pros
Short book, light weight, easy to carry around.
Good for beginners in the homeschooling crowd whether co-oping or not.
Good start on exercises and lessons for teaching.
Good tone of encouragement without sugar coating the downsides of homeschooling or co-oping.
Lots of good resources at the end to build more onto this start.
Cons
Short, which for people that need more will have to go to the internet for more.
Doesn't seem to fully prepare people for taking the plunge — lots of encouragement, but more nervous people may not find it convincing.
eBook copies are now available! You can find them at:
On Amazon