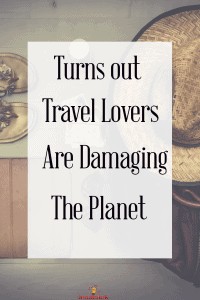 You might love to travel, but have you ever stopped to think about the impact your passion is having on the environment? As it turns out, your carbon footprint may be larger than you initially thought. This is according to a new study, which assessed emissions from travel, plus the full lifecycle of carbon in tourists' food, hotels and shopping (McGrath, 2018).
According to the researchers, the U.S. tops the list of biggest offenders, followed by China, Germany and India. Previously, estimates suggested that tourism accounted for 2.5 to 3 percent of all emissions. However, the new study found that the total is closer to 8 percent.
The researchers looked at global carbon flows between 160 countries between 2009 and 2013, making it one of the most comprehensive studies on this topic to date.
"It definitely is eye opening," lead author Dr. Arunima Malik from the University of Sydney told BBC News. "We looked at really detailed information about tourism expenditure, including consumables such as food from eating out and souvenirs. We looked at the trade between different countries and also at greenhouse gas emissions data to come up with a comprehensive figure for the global carbon footprint for tourism."
In addition, the researchers looked at the impacts in both countries where tourists came from and where they traveled. They discovered that the most important factor was well-off people from affluent countries traveling to other well-off destinations.
For instance, in the leading countries (U.S., China, Germany and India), most of the travel was domestic. Travelers from Canada, Switzerland, the Netherlands and Denmark exerted a much higher carbon footprint elsewhere than domestically.
"If you have visitors from high income countries then they typically spend heavily on air travel, on shopping and hospitality where they go to," Malik continued. "But if the travelers are from low-income countries then they spend more on public transport and unprocessed food, the spending patterns are different for the different economies they come from."
So what can you do, realistically, to reduce your carbon footprint?
One of the most impactful things you can do is travel by train, rather than plane (Christ, 2017). Another option is when you arrive at your destination, research your tour operators carefully. Work with companies that are known for being environmentally friendly.
Finally, practice what you preach at home. Recycle as much as possible on your trip, and avoid using plastics. These tips can help you be a smarter, greener traveler.
References
McGrath, Matt. "Tourism's carbon impact three times larger than estimated." Retrieved May 11, 2018, from http://www.bbc.com/news/science-environment-44005013.
Christ, Costas. "6 Ways to Be a More Sustainable Traveler." Retrieved May 11, 2018, from https://www.nationalgeographic.com/travel/lists/sustainable-travel-tips/