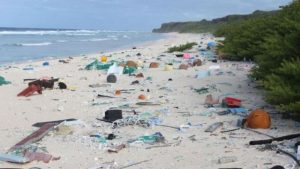 Welcome to Henderson Island, where you can literally live alongside 38 million pieces of trash.
This little island located halfway between New Zealand and Chile is considered to be a UNESCO world heritage site. Unfortunately, it's been plagued with a plastic problem. A recent report published in the Proceedings of the National Academy of Sciences found that Henderson Island has the highest recorded density of trash in the world. ("38 million pieces of trash found on uninhabited island in Pacific," n.d.)
"The quantity of plastic there is truly alarming," lead scientist Jennifer Lavers told The Associated Press. "It's both beautiful and terrifying."
But how did all of the trash get there? (Lavers & Bond, 2017)
Henderson Island is located near the edge of a vortex of ocean currents. Known as the South Pacific gyre, the vortex naturally captures trash floating in the water. Unfortunately, most of it eventually makes its way to the island.
Lavers, who took a closer look at the items found on Henderson Island, was able to find green toy soldiers that resembled the ones she used to play with as a child in the 1980s. This type of find signified that some of the plastics, or "pollutants," had been drifting in the ocean for quite some time.
The most common items found on the shores of Henderson Island were cigarette lighters and toothbrushes when scientists conducted their research for 3.5 months in 2015. In total, they estimated that the trash on the island weighs approximately 17.6 tons. More than two-thirds of it is buried under sand.
The Great Pacific Garbage Patch
Trash isn't just on our beaches – it floats in the ocean before it makes its way onto dry land. The Great Pacific Garbage Patch is perhaps one of the more well-known trash patches drifting in the water. The trash vortex drifts between Hawaii and California, collecting more and more garbage as time goes on.
Luckily, one man has a plan – Boyan Slat, who founded The Ocean Cleanup, has launched an initiative to collect trash from the vortex over time in an effort to lessen the pollution. He intends to deploy a 62-mile, underwater, V-shaped barrier to gather garbage. ("The Great Pacific Garbage Patch Is Even Worse Than We Feared," 2016) Although it sounds like a daunting task, Slat and his team believe they could remove half of the Great Pacific Garbage Patch by 2020.
And as for the plastic? Slat wants to process and recycle it into new products, branded as ocean plastic. In the end, it could evolve into a win-win for everyone, but especially Planet Earth. ("Ambitious Effort To Clean Plastic From The Ocean To Start Next Year," 2017)
References
Lavers, J. L., & Bond, A. L. (2017, May 15). Exceptional and rapid accumulation of anthropogenic debris on one of the world's most remote and pristine islands.
Proceedings of the National Academy of Sciences
. Proceedings of the National Academy of Sciences.
https://doi.org/10.1073/pnas.1619818114