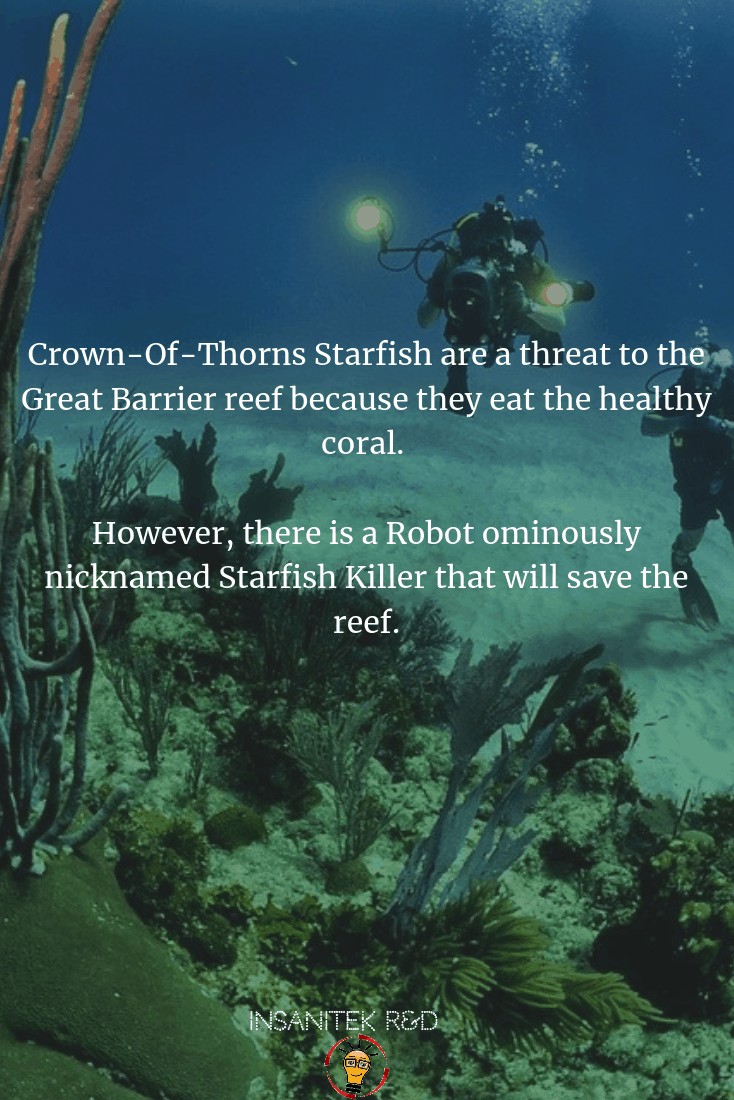 The Great Barrier Reef faces a number of challenges, many of which can be directly blamed on humans. However, the Crown-Of-Thorns Starfish is one exception – it is a sea creature that merely feeds on healthy coral, posing a threat to the reef.
To deal with the problem, researchers at Queensland University of Technology initially created a technology known as the Crown-Of-Thorns Starfish robot (COTSbot). COTSbot was specially designed to seek out the starfish and inject them with a chemical concoction that eventually killed them.
Now, a revised robot has been created to deal with the starfish population and protect the Great Barrier Reef once again. The same research team has created an underwater drone named "RangerBot." It has thrusters instead of fins, and it's coated in a bright yellow paint (Starr, 2018).
However, "RangerBot" does a lot more than just control starfish populations, unlike its predecessor. The research team developed "RangerBot" to be able to monitor the health of the reef for spans of up to eight hours at a time.
But perhaps most important, "RangerBot" is more effective and less expensive than human scuba divers, who would otherwise be tasked with the same responsibilities.
"Weighing just 15kg and measuring 75cm, it takes just 15 minutes to learn how to operate RangerBot using a smart tablet," Matthew Dunbabin, who leads the research team, told CNET. "We also spent a lot of time getting the user interface as simple to use as possible so that as many of our stakeholders (from researchers, management authorities and school children) could potentially operate it with a small amount of training. Environmental robotics is a real passion of ours and we see so much potential for these advanced technologies to transform the way we protect the world's coral reefs."
Luckily, it isn't just this research team that is working to maintain the health of the reef. For example, marine advocacy group The Ocean Agency has partnered with Google to take its "Street View" concept underwater to observe the reef over time (Bisset, 2017).
"As soon as we designed that [technology], the scientists all realized that this could revolutionize the study of coral reefs," Richard Vevers, head of The Ocean Agency, told CNET. "You could suddenly look at coral reefs at a scale that was really unprecedented."
And as long as other advocacy groups and researchers continue to use their resources for good, there will always be a silver lining in the future for the Great Barrier Reef.
References
Starr, Michelle. "Seek-and-destroy robot to stop starfish killing the Great Barrier Reef." CNET. Retrieved Sept. 4, 2018, from https://www.cnet.com/news/seek-and-destroy-robot-to-stop-starfish-killing-the-great-barrier-reef/
Bisett, Jennifer. "Mapping the Great Barrier Reef with cameras, drones and NASA tech." CNET. Retrieved Sept. 4, 2018, from https://www.cnet.com/news/mapping-australias-great-barrier-reef-with-cameras-drones-nasa-tech/
Are you a nature lover that wants more knowledge?
If yes, then be part of our newest project: The Urban Naturalist Interactive Journal.
While it says urban naturalist, don't worry, we get plenty of rural in there as well since hiking and day trips aren't that far from city life.
You can get our first journal page and give your feedback by signing up for the Nature Lover's List where you'll get information from a variety of sources and a place to geek out with other nature lovers.