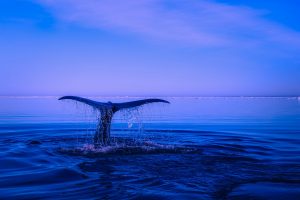 They may be endangered, but that doesn't mean they're impossible to spot in the wild.
The North Atlantic right whales are in Cape Cod Bay, feeding on plankton and putting on a show for locals. According to an aerial survey team, there are 112 of them swimming between the Cape Cod Canal and Provincetown, Massachusetts. In the world, there are only 524 North Atlantic right whales in existence.
Only three right whale births have been recorded so far this year. However, almost two-thirds of the youngest right whales are feeding in Cape Cod Bay.
"It's a pretty special situation that this many whales and arithmetically two-thirds of the calf population was here in Cape Cod Bay," said Charles Mayo, a right whale expert from the Center of Coastal Studies. "The people who fly in our airplanes, who are trained researchers, said all 112 animals had their mouths open." (Orecchio-Egresitz, n.d.)
It is illegal for people to come within 500 yards of the right whales because they are endangered species. However, the animals are known to feed close to the coast, giving some people an opportunity to view them with a good pair of binoculars.
"What we do is photograph their markings and scars on their body to take assessments of how they're doing," said Philip Hamilton, a researcher at the New England Aquarium's Anderson Cabot Center for Ocean Life, who is studying the whales. "Have they been entangled in fishing gear recently? Are they thin? Is their skin healthy?" ("Record Number Of North Atlantic Right Whales Spotted Off Cape Cod," n.d.)
Unfortunately, the feeding season has not been without incident.
About a week ago, a right whale was found floating dead in the bay. It was brought to a landfill in Bourne, Massachusetts where a necropsy could be performed. Researchers determined that the animal had likely died from an encounter with a ship. It had bruising that was consistent with blunt trauma, according to experts. Laboratory tests are still being performed, and the results may not come back for months.
"It's really worrisome to know that another young right whale has died in our waters," said Misty Niemeyer, Necropsy Coordinator for the International Fund for Animal Welfare. "As an endangered species of approximately 500 individuals, every animal is important for the survival of the population. We need to learn as much as we can from her tragic death and gain valuable insight in hopes to further protect the species." ("Initial necropsy results show dead right whale had bruising from blunt trauma," 2017)