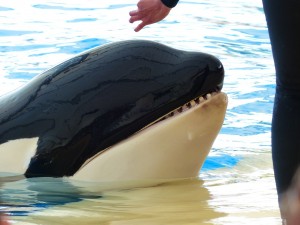 SeaWorld Entertainment Inc., the aquatic animal-based theme park company, has announced that it will end the Orca whale shows at its San Diego facility. This news comes after heavy criticism of the park's treatment of whales, which activists say should reside in the wild, according to the Associated Press.
However, many people (who probably watched Blackfish) are saying that this isn't enough.
Instead, activists are pushing SeaWorld to eliminate the captivity of killer whales in its entirety. The shows featuring the whales are still set to go on at SeaWorld's parks in Orlando, Fla., and San Antonio, Tx.
"The fact still remains that as long as SeaWorld holds orcas in captivity, the physical and psychological problems associated with their captivity will persist," California Democratic Rep. Adam Schiff told the AP.
Earlier this year, SeaWorld had announced plans to create a larger killer whale tank at its San Diego location in an effort to boost attendance. However, the initiative was stalled when the California Coastal Commission stepped in to prohibit whale breeding and transferring at the facility.
Science and The SeaWorld Effect
Did SeaWorld always have a black cloud hovering over it? If you do enough digging, you'll find that the short answer is no. The first park originally opened its gates in 1964, and although it was initially planned to be an underwater restaurant, it budded into a 21-acre marine zoological park in San Diego.
Furthermore, scientists are still using the park and its creatures to study aqua-life today. In 2013, for instance, a team of SeaWorld scientists discovered a previously unknown cause of death among bottlenose dolphins in Florida's Indian River Lagoon.
As for breeding and other "unnatural" acts conducted by SeaWorld at its parks, the company claims that it's primarily for a good cause.
"More than 80 percent of marine mammals at our parks were born in the care of humans," SeaWorld wrote on its website. "The animals born in our parks help scientists study development and growth rates that would otherwise be difficult or impossible to research in the wild."
Whether or not you buy it, the fact of the matter is that SeaWorld doesn't appear to be aimlessly capturing Orca whales for the sole reason of profit. Blackfish aside, it's worth taking a look at both sides of the argument before drawing a line in the sand.
---
Sources
Schneider, Mike. Watson, Julie. "Activists Say Ending SeaWorld Orca Shows Not Enough." AP. November 10, 2015.
Stolen, Megan. "Fatal Asphyxiation in Bottlenose Dolphins from Indian River Lagoon." PLoS One. June 19, 2013.
"Science and Research." SeaWorld Parks and Entertainment. Retrieved November 11, 2015.
"History." SeaWorld Parks and Entertainment. Retrieved November 11, 2015.