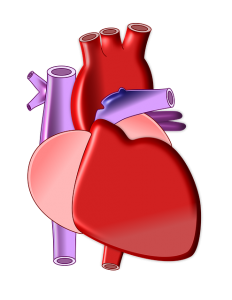 Feeling stressed or depressed? Keep an eye on your heart health.
A new study published in the journal Circulation: Cardiovascular Quality and Outcomes shows that people who have high levels of stress and depression are 48 percent more likely to die of a heart attack. This was compared to a group of people with low levels of depression and stress, according to researchers.
"The increase in risk accompanying high stress and high depressive symptoms was robust and consistent across demographics, medical history, medication use and health risk behaviors," said Carmela Alcantara, an associate research scientist at Columbia University Medical Center and lead author of the study.
About 5,000 people with coronary heart disease participated in the study. They were asked to answer questionnaires between 2003 and 2007 on stress and depression, in addition to undergoing in-home examinations. Approximately six percent of people reported having high stress or depression. After a six-year follow-up, there were 1,337 heart attacks or deaths among the participants.
The researchers were able to identify a high vulnerability period for subjects during which they were feeling intense stress and depression. They noted that this could increase their risk of dying or having a heart attack.
"Our results provide initial support for a psychosocial perfect storm conceptual model; the confluence of depressive symptoms and stress on medical prognosis in adults with coronary heart disease may be particularly destructive in the shorter term," wrote the authors in their report.
Minding Your Heart Health
It's important to note that this study surrounded individuals who were already living with heart complications, meaning they may have already been at risk. However, this study still sheds light on one key fact — stress and depression can lead to health complications.
The American Psychological Association released a report in 2010 that showed that 22 percent of Americans consider themselves to be in fair or poor health. Those who place themselves in this category were also more likely to report high levels of stress and the physical symptoms of it, including fatigue, headache, upset stomach and muscular tension.
While some may believe that stress is "all in your head," it's studies like this that exhibit how real it can be — or at least its effects on the body.
---
Sources