Hundreds of papers.
That's how many papers I had to write through my academic career. There were at least 5 per class, and each one required reading, summarising, synthesising, and citing countless pieces of work. 5 classes per semester, 2 semesters per year, and 9 years of education. After the first semester I was desperate for a better way to work.
Gratefully, I came across Zotero, a different sort of citation manager.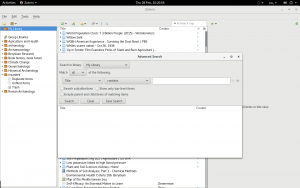 Zotero is more than a citation manager. Yes, you can use it to keep track of and format citations, but Zotero is truly a research assistant. When you read, you can take notes that are stored alongside your citation. This means you don't have to go finding the sources time and time again when time is short to find "that one thought."
You know the one. The fleeting hey, I read that somewhere… what book was it again…? followed by the frustration because your note taking system doesn't have a search index. Zotero does have a search index so you can easily find things.
That's the exciting part. But lets get back to basics.
With Zotero you can:
Look up by ISBN, DOI, PMID, and arXivs ID or enter them in manually
Cite 32 different types of sources — even bills, emails, and DMs.
Link to a file (as in linking to the PDF on your computer or URL so you can find it again on the web)
Store notes about the sources with the sources
Sort the citations in folders to keep research themes together and organised
Link to group and share with others
Follow other groups
Use a browser connector to add things straight from the web
Use it on ALL computers with the browser, but the word processor plugin is for Windows, Mac, and Linux — sorry Sun users
Insert both in-text and bibliographic information in a plethora of citation formats
Change the citation formats with a few clicks
Every citation manager I had tried before wasn't this easy to use, nor did they have so much flexibility. It's free and open source, which means that it can grow into what we need. For example, ZotPress for WordPress is a plugin built off of the Zotero system, and it makes citation in WordPress so much cleaner and easier.
Imagine research and citation being streamlined whatever you write — even on the web.
Because you can easily change citation formats, you can write for multiple publications. Citations are changed with a few clicks, then you just spend some time editing for your new audience.
But, then you've got the internet. If you haven't figured it out, Insanitek uses WordPress. And, there is a plugin for that. ZotPress. It works with Zotero and WordPress to create a streamlined citation experience as well. As far as I know, there isn't a plugin for Squarespace — which is why we went with WordPress.
However, when I worked for the American Association for the Advancement of Science, I used to write my posts in a word file (technically LibreOffice because I use Linux) then copy and paste the citations and all into their system. It was easy, clean, and efficient.
Good for all levels — even high school.
I recommend starting to use a tool like this in high school. It makes keeping track of things easier when you use the notes, but it also makes citations super easy. Even in Google Docs which seems to be where most schools are having their students write.
With all this, Zotero is the best option for keeping research notes, citations, and more in one place. It makes work flow smooth and efficient. Check it out. After all, Zotero is free.
Share Zotero: Making Research Easy
​