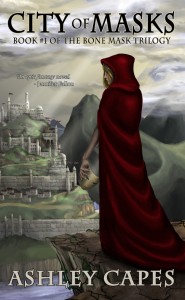 Life isn't always about the lab. Or maybe it is, but you're looking for a way to pass the time in the "hurry up and wait" periods. You know the ones. The times when you're waiting on the phone, in line, or for a client to show up for their meeting. It's those quiet few moments when you can claim time for you. Pour a glass of wine, grab a book, and kick up your feet. It's time to reclaim those downtimes for you starting with Ashley Capes' books City of Masks & Between Giants and Old Stone.
City of Masks Synopsis
It starts with intrigue, betrayal, and the normal changes of life. Sophia Falco is a daughter of a very powerful house, and when her brother is proclaimed dead at sea, she is thrust into his role as Protector to the heir to the throne. Except the heir to the throne is keen to steal the show, so he plots against House Falco as well as the current king. You know the story, the son is in a hurry to take over the throne, so he plots against the king, and anyone else that gets in his way. There are a lot of people who want House Falco to fall and the new king to take the throne, so he has a lot of help.
But there are other things happening on than just that. An old enemy — tribes from the deserts — are trying to retake their ancestral lands, enemies from the sea are coming for an invasion, and there is a very powerful enemy from within the city that is also causing havoc for his own whims and madness.
Sophia, a mercenary with a love of action over thought (Notch), a super-human strengthed female fighter (Flir), a powerful merchant (Seto), and a host of supporting characters have their paths laid together while things are sorted out. Sophia is on the run from the palace, Notch wants his name cleared from a murder he didn't commit, Flir is Notch's loyal friend, and Seto seems to be the one in charge of leading this mismatched group of people to solve the mysteries that are unravelling in the palace while the political games of the region play out around them.
Between Giants and Old Stones Synopsis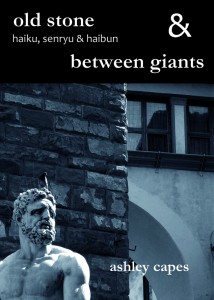 Both of these books are poetry books that explore life with sincerity, artifice, and meaning.While Aderyan Woods notes that Ashley finds poetry in every day things from suburbia to the past and present and even into the mythical, Graham Nunn testimony sums it up nicely:
'In between giants, Capes steps with a daring lightness. From 'water-proofed buskers' on the banks of the Yarra to standing 'ankle-deep in pigeons' in Piazza San Marco, Capes walks a breathtaking tightrope between geographical locations and everyday miracles. Direct, playful and startling, these poems are unafraid to dream.'
Between Giants is longer form poetry that pulls the curiosity and magic from every day things we take for granted in the world.
Old Stones, on the other hand, is a collection of haiku — a 45 page collection of haiku, that is. This haiku is not the normal types of word play, but rather Ashley's type of word play. It is a form of art that straddles genres, interests, and shows the world to the reader in a way they never thought they'd see.
You can read reviews of Ashley's books here on Goodreads, Grace's interview with Ashley Capes here. And, of course, you can enter the giveaway for a signed copy of both City of Masks AND Between Giants and Old Stones.
The giveaway runs from Monday, 7. March to Monday 21.March, and you'll be able to add entries the entire time it's open. If you follow us on social media, we'll be reminding you periodically. 🙂