Editor's note: This post has been updated and broken links removed. Please see our policy on broken hyperlinks for more.
There has been plenty of news on the bleaching of coral reefs, but would you believe it if you heard that some humans are actually helping them thrive?
A study recently published in Nature has discovered that some coral reefs are not in bad shape, thanks to the help of humans. After analyzing data from 2,500 reefs around the world, researchers identified "bright spots" and "dark spots," defined as areas that have "biomass levels more than two standard deviations from expectations."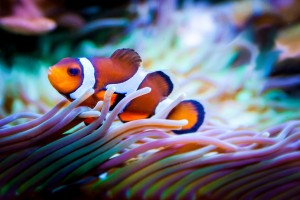 Bright spots have low fishing pressure and nearby human populations that use ecosystem resources. Dark spots are characterized by their capture and storage technology, as well as their recent history of environmental shocks. It's worth noting that dark spots aren't necessarily heavily impacted by humans – some of them are remote areas that are relatively uninhabitable.
In total, the researchers identified 15 bright spots and 25 dark spots. In the bright spots, coral reefs were seemingly able to thrive, thanks in part to human actions (e.g., fishing governance).
"We surveyed local experts about social, institutional, and environmental conditions at these sites to reveal that bright spots are characterized by strong sociocultural institutions such as customary taboos and marine tenure, high levels of local engagement in management, high dependence on marine resources, and beneficial environmental conditions such as deep-water refuges," wrote the authors of the report.
The State of Coral Reef Bleaching
Coral reefs were in the headlines earlier this year when scientists announced that El Nino was playing a large role in bleaching. Bleaching occurs when coral reefs cannot handle warm ocean temperatures. The National Oceanic and Atmospheric Administration recently announced that one-third of the reefs on our planet are at risk of bleaching within 2016.
Global warming and El Nino are being named the top culprits. However, NOAA has established the Coral Reef Conservation Program to work with scientific, private, government and non-government organizations to develop plans to save the reefs. Additionally, NOAA is utilizing the Coral Reef Early Warning System to monitor water temperatures.
---
Sources
Cinner, Joshua. Huchery, Cindy. MacNeil, M. Aaron. Graham, Nicholas A.J. McClanahan, Tim. Maina, Joseph. Maire, Eva. Kittinger, John. Hicks, Christina. Mora, Camilo. Allison, Edward. D'Agata, Stephanie. Hoey, Andrew. Feary, David. Crowder, Larry. Williams, Ivor. Kulbicki, Michel. Vigliola, Laurent. Wantiez, Laurent. Edgar, Graham. Stuart-Smith, Rick. Sandin, Stuart. Green, Alison. Hardt, Marah. Beger, Maria. "Bright spots among the world's coral reefs." Nature. Published June 15, 2016.