Born into slavery in 1864, George Washington Carver used his natural scientific curiosity and the power of education to become one of the leading agricultural scientists of his day. He advocated that southern farmers rotate their crops between cotton, which quickly depletes the soil, and peanuts, which added nitrogen to the soil. His concept of crop rotation led to an increase in cotton yields but it also meant there was an increase in peanuts. Carver set out to find ways to use the surplus peanuts. In the end, he developed more than 300 uses for peanuts…but, nope, peanut butter wasn't one of them!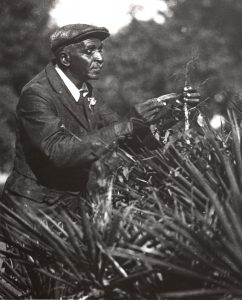 George Washington Carver was only an infant when Confederate raiders descended upon the Missouri farm where he lived with his mother, sisters, and brother, James. Carver's father was killed in a farming accident before George was born. The Confederates kidnapped Carver, his mother, and one of his sisters and sold them to plantation owners in Kentucky. Only young George was recovered and returned to Missouri. The agent who found him, Moses Carver, took George and his brother, James, in raised the boys themselves. Moses Carver's wife, Susan, taught the boys to read and write and encouraged them to learn and explore. As a child, George became interested in plants and used native plants in his experiment, creating natural pesticides and soil improvers.
Susan Carver insisted that George attend high school and he graduated from Minneapolis High School, in Minneapolis, Kansas, in 1880. He sent in his application to Highland Presbyterian College in Kansas and received an acceptance letter. The college was so impressed with Carver that they offered him a full scholarship. When he arrived for classes, however, the college discovered that Carver was black. They rescinded the offer and sent him on his way. Carver spent the next eight years working odd jobs, saving his money, and searching for a college that would admit him.
When Carver was finally allowed to attend college, it was at Simpson College in Iowa. He originally planned to get a teaching degree, so he took an art class. He proved to be so good at painting the detailed parts of plants and flowers that his professor asked him if he ever considered studying botany. Carver switched majors and colleges, moving to the Iowa State Agricultural School, which is now Iowa State University. He was the first black student to earn a Bachelor of Science degree, He joined the faculty and discovered two types of soybean fungus, which bear his name, and received his Master's Degree. He experimented with improving soil quality by crop rotation. He earned a reputation for being one of the nation's leading agriculture scientists.
Carver received a letter from Booker T. Washington in 1896 inviting him to work at the Tuskegee Institute, one of the first African-American colleges in the county. To accept the position at the Tuskegee Institute would mean a reduction in pay for Carver, but it would afford him the opportunity to help improve the lives and the yields of impoverished farmers of the rural South. Carver accepted the position and spent the remainder of his life working at the Tuskegee Institute.
Carver continued his research in Tuskegee's experimental farm fields. He began to focus his research on peanuts, an easy-to-grow crop that returns important nitrogen to soil that was depleted from growing cotton. To spread the word about the effectiveness of crop rotation and to align with Booker T. Washington's mantra that the Tuskegee faculty should take their teaching into the community, the school asked Morris K. Jesup to design a mobile classroom. His "Jesup Wagon", officially called the Booker T. Washington Agricultural School on Wheels, debuted in 1930 and allowed Carver to travel to county fairs, community meetings, and agricultural events to demonstrate soil chemistry. By talking directly to farmers, he was able to help them to understand how some crops deplete the soil while others fortify it. As a result, more and more farmers started to follow Carver's plan of rotating crops by adding peanuts.
Within a few years, the farmers noticed an increase in their cotton yields because the soil's nutrients had been replenished. They were thrilled with the spike in cotton production, but less than thrilled with the surplus of peanuts they had grown. In fact, storehouses across the South were filling up with excess peanuts that looked like they may go to waste. Carver set out to find viable uses for all the extra peanuts.
Carver developed a series of products that could be made from peanuts. He developed ways to make such things as paper, soap, laxatives, lotion, flour, wall board, paint, shaving cream, and insulation, all from peanuts. One this Carver didn't invent was peanut butter, contrary to popular myth. While the ancient Incas did make a paste using ground up peanuts as long ago as 950 BC, the peanut butter that we know today was invented in 1895 by Dr. John Harvey Kellogg – the cereal guy – as part of a healthy vegetarian diet. The world was introduced to peanut butter in 1904 at the St. Louis World's Fair.
Carver created a collection of brochures about his peanut inventions and distributed them to Southern farmers. His ideas caught on. Soon, manufacturers clamored for peanuts to use as a base material for their products. Carver's more than 300 peanut inventions are recognized today as one of the biggest factors that saved the South's agricultural economy.
Because of his efforts on behalf of peanut growers, Carver was invited to speak to the newly-formed Peanut Growers Association of America, a group that was formed to beseech Congress to pass a tariff law to protect the peanut industry from imported crops. So persuasive was Carver that he was asked to give a presentation before Congress the following year. Carver was successful in his efforts, and Congress passes the tariff in 1922. Carver had impressed many in Washington. In 1923, he was named as Speaker for the United States Commission on Interracial Cooperation, a position he held for ten years. By 1935, Carver became the head of the United States Department of Agriculture's Division of Plant Mycology and Disease Survey.
As the peanut industry continued to flourish, Carver turned his scientific endeavors to the sweet potato, another crop known for its nitrogen-fixing properties. He developed numerous sweet potato products, as well, including rope, wood filler, molasses, breakfast cereal, fabric, and more than 73 dyes. He produced brochures extolling the virtues of both peanuts and sweet potatoes, including nutritional data and recipes. Carver even met with Mahatma Gandhi in India to discuss the role of nutrition in developing countries.
Thanks largely to Carver's work, the peanut industry has grown into one of the largest cash crops in the South and is the chief agricultural product in several states. Although he invented hundreds of plant-based products, he only sought patents on three of them. He preferred, instead, to share his knowledge with others in hopes of helping the nation's farmers. Upon his death in 1943, Carver left $60,000, his life's savings, to the Tuskegee Institute which started the George Washington Carver Institute for Agriculture at Tuskegee. Carver's legacy has been honored on postage stamps, statues, commemorative coins, and monuments. He even has his name on two United States military vessels.
Because Carver was born into slavery, his exact birth date is unknown. Congress settled on January 5 as the day that the nation would recognize George Washington Carver and his scientific and social contributions. Carver's life is an example of the power of education to change lives and change the world. Carver once said, "Education is the key to unlock the golden door of freedom." While not doubt Carver was extremely proud of his contributions to science, he would probably be the most honored by the numerous college scholarships that are awarded in his name to help underprivileged students get their own college education.
Sources:
Bagley, Mary. "George Washington Carver: Biography, Inventions & Quotes." LiveScience. 6 Dec. 2013. Web. 13 July 2018.
"George Washington Carver." Biography.com. A&E Network. 19 Jan. 2018 Web. 13 July 2018.