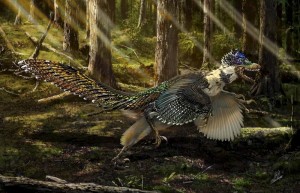 If there's anything we've learned from archaeologists' discoveries, it's that dinosaurs are weirder than our imaginations perceive.
The latest discovery of a nearly complete preserved fossil in China continues to prove this. The dinosaur was found with hair-like feathers and wings like a bird, according to Reuters. However, scientists say that the creature likely couldn't fly. On top of it all, the dinosaur was a meat eater with extremely sharp teeth.
The dinosaur has been named Zhenyuanlong suni, and it comes from the Early Cretaceous period (about 125 million years ago). It also had quill-like feathers on the end of its wings and long tail. In total, it was about six feet long. Paleontologist Steve Brusatte from the University of Edinburgh called it the "fluffy poodle from hell."
"Zhenyuanlong was a dinosaur that really looked like a bird," Brusatte told the news source. "You wouldn't think of it differently than a turkey or an emu or a big chicken."
He went on to say that although it looks like it could've flown, it was primarily raptor-like in dinosaur terms. For this reason, Brusatte doesn't think it could have done anything in the air.
But if you think the Zhenyuanlong suni is weird, consider the following creatures that used to roam our planet:
In short, there's always more that is waiting to be discovered in terms of the Cretaceous period. As archaeologists share their findings with the world, it's safe to say that we're in for more weird discoveries in the future.
---
Sources