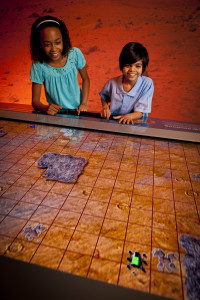 This summer, kids in the Boston area are learning just how important math is in their everyday lives, thanks to Raytheon's 2theXtreme: MathAlive! exhibition at the Museum of Science, Boston. Presented nationally by Raytheon Company, the highly interactive traveling exhibit is designed to inspire, to spark the imagination and to reveal not only math at work, but the endless possibilities of math.
Primarily designed for kids in grades 3-8, the 5,000-square-foot exhibition brings to life the real math behind what kids love most video games, sports, design, music, robotics and more and creates interactive and immersive experiences that bring to life the math at work in each. Through nearly 40 unique, interactive experiences, the exhibit takes math from its native form into the applied worlds of design, engineering, technology and science.
Visitors explore and operate simulations of NASA's latest robotics, including the Robonaut 2 and the Curiosity Rover. Around a large-scale futuristic bridge they learn how engineers work to make a city hum while taking on different engineering roles to design a more sustainable infrastructure.
While it may seem that long division and pi are not applicable to life outside the classroom, visitors to MathAlive! will learn exactly the opposite. Escorted by three robots "the BotZ Squad" visitors experience math in new ways through six themed galleries
In "Outdoor Action," for example, students participate in various activities that demonstrate math's presence in their favorite sports. Kids can design skateboards to see how length, angles, shape, and wheel size and position determine speed and capability. Visitors can also practice snowboarding skills using body torque and angles of the board to increase speed and accuracy while racing down a virtual hill.
"Build Your World" explores the use of math in the environment. Activities include planning a day at the beach and learning about city infrastructure in order to design an efficient and energy-conscious environment. Another interactive station demonstrates how scientists use math when testing river-water safety for use in daily life. Faced with the problem of limited power supply in an emergency situation, visitors solve the equation by choosing which services need to continue while staying within the power limit.
Along the way visitors meet and hear professionals, visionaries and inspiring personalities talk about math in their work across fields kids are most interested in exploring. The exhibit addresses all math strands and subjects for upper elementary and middle school, and neatly aligns with standards for educator planning. To see videos and photos of the exhibition visit www.mathalive.com.
Grace Ignarri, temporary exhibits logistical coordinator, Museum of Science, Boston, says the BotZ characters force kids to listen to a problem so they can understand the component. "You walk up to one of the touch screens for the component and there's a short introduction by one of the BotZ. For example, you're on Mars and you need to collect rock samples to see if they have water in them. To do that you have to program the rover, which you don't know how to do until they explain it to you. It's really fun for kids.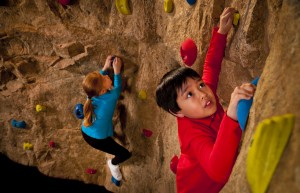 "The greatest thing about this exhibit is there's so much to do," she continued. "There's not tons of stuff to read, and there's so much to do that it really engages kids. There's not just one theme all the way through. It takes math and puts it into as many scenarios as it possibly can."
MathAlive! is one element of Raytheon's many-tiered MathMovesU program, which uses a host of engaging learning programs ─ including MathMovesU's interactive website (www.mathmovesu.com), scholarships, sponsorships and events ─ to help students from middle school through college remain interested in math and science and, by extension, ensure the continued strength of the American work force.
"Raytheon is helping students globally create a lifelong relationship with math and science ─ one that will open up a world of opportunities for a bright future," said Raytheon Chairman William H. Swanson. "With science, technology, engineering and math as key drivers of the global economy, exhibits like MathAlive! are essential to inspire and excite students, while encouraging the next generation of STEM-capable professionals."
MathAlive! debuted at the Smithsonian in Washington, D.C. in 2012 and continued on to visit Phoenix, Ariz.; Huntsville, Ala.; Houston, Texas; Hartford, Conn.; Omaha, Neb., and Wichita, Kan. before coming to Boston. The exhibition is on a multi-year tour to science centers and museums across the U.S. and international cities, and is projected to draw 4 million visitors. Institutional collaborators for MathAlive! include NASA, the National Council of Teachers of Mathematics, the National Society of Professional Engineers, the National Engineers Week Foundation, The Society of Women Engineers and MATHCOUNTS.