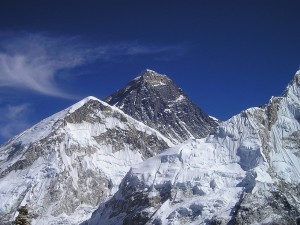 Avid climbers have always been amazed at how Sherpas, the ethnic group of Nepal, can withstand high altitude and take on the world's greatest mountains with ease. Now, a team of researchers has answered some of the most pressing questions on Sherpas at the World Extreme Medicine Expo.
Last month at the conference in London, Denny Levett and her team shared their findings stemming from a 2013 expedition to the top of Everest, dedicated to examining human endurance at high altitudes. Levett, a founding member of Xtreme Everest and consultant in clinical care at University Hospital Southampton, was particularly impressed by the ease shown by a participating Sherpa, according to Gant Daily.
"He came down 2,000 meters [from the top] in just two hours, when it took our team the best part of a day," Levett told the news source. "He even stopped for a cup of tea on the way down."
Levett's team consisted of 180 volunteers, 64 of who were Sherpas. They were all exposed to a wide range of physical and biological tests prior to setting off toward the top of Everest. After analyzing levels of oxygen in the blood, Levett concluded that there were differences in the cells of Sherpas, compared to the other climbers. Specifically, the Sherpas' mitochondria — responsible for generating energy with oxygen — were generally more efficient.
Levett went on to say that less than six percent of humans are capable of making the climb up Everest without supplemental oxygen. However, Sherpas have been in the Himalayas for so long that their bodies have evolved the ability to survive in these tough conditions.
"The unique physiology of the Sherpa people may hold the key that unlocks the secret of successful hypoxic adaptation," wrote the team of researchers in their study.
Furthermore, the team believes that the data from the study, also known as XE2, could potentially help doctors identify new treatments for the  pathophysiological hypoxaemia and cellular hypoxia seen in critically ill patients.
"Identifying cellular and metabolic differences between lowland individuals and those adapted over centuries to the hypoxia of high altitude may identify beneficial mechanisms of adaptation for subsequent evaluation in the clinical setting," the team concluded.
Levett and the other researchers went on to say that the data collected during XE2 will be further analyzed in an independent study in the future.
---
Sources
Martin, Daniel. Gilbert-Kawai, Edward. Levett, Denny. Mitchell, Kay. Kumar, Rajendra. Mythen, Michael. Grocott, Michael. "Xtreme Everest 2: unlocking the secrets of the Sherpa phenotype?" Springer. October 23, 2013.
CNN Press. "The biological secrets that make Sherpas superhuman mountaineers." Gant Daily. November 11, 2015.