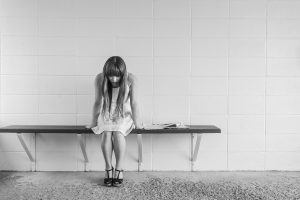 As of 2014, approximately 2.8 million adolescents in the U.S. had at least one major depressive episode within a 12-month span. Although it's widely known that teens experience depression, a new study suggests that medication may not be helping.
An analysis of 34 trials of antidepressants involving approximately 5,000 children and teens taking 14 different antidepressants discovered that they are not significantly effective. The authors of the report concluded that, for the most part, depression symptoms were not relieved by the use of these medications. Fluoxetine, the only drug approved for children, was the one product that appeared to show some positive effect on patients.
Some of the drugs examined in the analysis included escitalopram, venlafaxine and sertraline, which are commonly prescribed for the condition.
"When considering the risk–benefit profile of antidepressants in the acute treatment of major depressive disorder, these drugs do not seem to offer a clear advantage for children and adolescents," wrote the authors of the report. "Fluoxetine is probably the best option to consider when a pharmacological treatment is indicated."
It's also worth noting that the researchers saw that fluoxetine is better tolerated in young patients than other medications. Fluoxetine is commonly marketed under the name, Prozac, and its most common side effects are dry mouth, nausea, headache and weight gain.
However, the findings do not mean that fluoxetine is the ideal treatment for all adolescents. Previous studies have found that children are prone to an increase in suicidal thoughts while taking the drug. For this reason, the U.S. Food and Drug Administration issued a public warning on the matter, and it has extended the advisory to individuals up to 24 years of age.
"Today's actions represent FDA's commitment to a high level of post-marketing evaluation of drug products," said Steven Galson, director of FDA's Center for Drug Evaluation and Research. "Depression and other psychiatric disorders can have significant consequences if not appropriately treated. Antidepressant medications benefit many patients, but it is important that doctors and patients are aware of the risks."
About 85 percent of teens with depression can see an improvement with a combination of medication and therapy. However, more than 65 percent of teens with depression do not receive treatment from a mental health provider.
---
Sources
Cipriani, Andrea. Zhou, Xinyu. Del Giovane, Cinzia. Hetrick, Sarah. Qin, Bin. Whittington, Craig. Coghill, David. Zhang, Yuqing. Hazell, Philip. Leucht, Stefan. Cuijpers, Pim. Pu, Juncai. Cohen, David. Ravindran, Arun. Liu, Yiyun. Michael, Kurt. Yang, Lining. Liu, Lanxiang. Xie, Peng. "Comparative efficacy and tolerability of antidepressants for major depressive disorder in children and adolescents: a network meta-analysis." The Lancet. Published June 8, 2016.
"Teen Depression Statistics." Families for Depression Awareness. Retrieved June 13, 2016.
"Major Depression Among Adolescents." U.S. National Institute of Mental Health. Retrieved June 13, 2016.
"Prozac." Drug Watch. Retrieved June 13, 2016.
"FDA Proposes New Warnings About Suicidal Thinking, Behavior in Young Adults Who Take Antidepressant Medications." FDA. Published May 2, 2007.