What would you do if you found out a young female in your life was contemplating suicide? New research suggests that incidents of self-harm are rising among young girls and women.
Recently, a letter published by the Journal of the American Medical Association looked at the rates of suicide among young adults (Mercado, Holland, Leemis, Stone, & Wang, 2017). Statistics showed that suicide rates among both teenage boys and girls are surging. However, the number of emergency room visits for boys between the ages of 10 and 24 (for nonfatal self-inflicted injuries) has been stable in recent years. For females, the number of visits for that age group is soaring. However, researchers are unsure of why this is the case.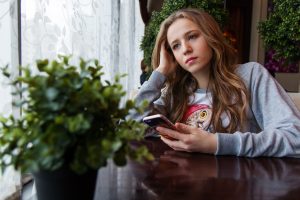 "Other potential underlying reasons for the observed increasing trends, particular among young females, warrant further study," the authors wrote in their letter.
Girls and young women who were admitted to the emergency room for self-inflicted harm commonly took poisons or pills, according to the researchers. Between 2009 and 2015, the number of girls between 10 and 24 who were admitted to ERs for non-fatal self-inflicted injuries increased by 8.4 percent each year (Eltagouri, 2017).
So why are more young women hurting themselves?
The theories vary, according to researchers. Some believe that those born after 1995 are prone to more mental health issues than millennials. Specifically, people believe that this is because teens have access to smartphones.
Jean Twenge, a psychology professor at San Diego State University, recently researched the rise of smartphones and its tie to depression in young adults. Twenge found that teenagers who spend five or more hours a day online are 71 percent more likely to have at least one suicide risk factor, such as depression or making a suicide plan, compared to teens who spent only one hour a day online (Twenge, 2017).
The connection between the smartphone, depression and teens lies within their continuous access to the outside world. Could teens be more prone to bullying and exposure to peer pressure by maintaining a connection to the outside world via smartphone?
Regardless, there are a few ways adult caregivers can do their part to keep young adults safe. Contacting a mental health professional may be of interest for long-term care. In the event that an individual expresses any suicidal tendencies, medical attention should be sought immediately. This can be done by dialing 9-1-1 or contacting 1-800-273-TALK.
References
Mercado, M. C., Holland, K., Leemis, R. W., Stone, D. M., & Wang, J. (2017). Trends in Emergency Department Visits for Nonfatal Self-inflicted Injuries Among Youth Aged 10 to 24 Years in the United States, 2001-2015.
JAMA
,
318
(19), 1931.
https://doi.org/10.1001/jama.2017.13317