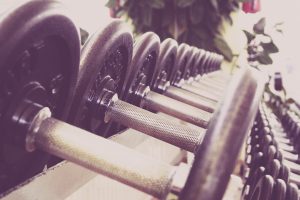 Is it possible to get too much exercise? New research says yes, there is such thing as overdoing it, but cutting out exercise altogether isn't necessarily the answer.
Reducing the amount of exercise you participate in per week may be the better alternative, according to one recent study (Laddu et al., 2017). The research from Mayo Clinic Proceedings looked at how exercising more than the recommended amount of physical activity may impact overall health. The scientists used data from 3,175 participants in the Coronary Artery Risk development in Young Adults (CARDIA) study to draw their conclusions.
Participants self-reported their levels of exercise over time. Then, the researchers split up the results into three groups – those who participated in less than the recommended amount of exercise, people who achieved the recommended amount, and those who exercised three times above the recommendation.
"White individuals who participated in 3 times the recommended PA (physical activity) guidelines over 25 years had higher odds of developing coronary subclinical atherosclerosis by middle age," the researchers concluded.
Specifically, the researchers found that white men who worked out for more than eight hours per week had double the chance of suffering from heart disease than those who exercised for less than two-and-a-half hours per week.
Dr. Joel Khan, a cardiologist, recently spoke with the Sacramento Bee about putting less stress on the arteries through a reduction in exercise and an emphasis on relaxation (Magness, 2017).
"There is a stress reaction to long distance and long duration exercise — your cortisol is up for a long time," Khan told the Bee. "It may be wise to build in daily stress reduction techniques, such as meditation, yoga — seven, eight hours of sleep."
So how can people exercise safely on a regular basis?
The American Heart Association recommends a total of 150 minutes of moderate-intensity aerobic exercise per week, along with moderate- to high-intensity muscle-strengthening activity two days per week ("American Heart Association Recommendations for Physical Activity in Adults," n.d.). While exercising, you should always take at least five minutes to warm up and cool down before and after your workout. A mix of different kinds of exercise, rather than the same activities repetitively, can also reduce the chances of injury while working out ("10 tips for exercising safely," n.d.).
Speak to your doctor if you have concerns over the type of exercise you're doing, or if you want to know how much physical activity you should be engaging in on a regular basis.
References
American Heart Association Recommendations for Physical Activity in Adults. (n.d.). Retrieved October 23, 2017, from American Heart Association Recommendations for Physical Activity in Adults
Laddu, D. R., Rana, J. S., Murillo, R., Sorel, M. E., Quesenberry, C. P., Jr., Allen, N. B., … Sidney, S. (2017). 25-Year Physical Activity Trajectories and Development of Subclinical Coronary Artery Disease as Measured by Coronary Artery Calcium.
Mayo Clinic Proceedings
.
https://doi.org/10.1016/j.mayocp.2017.07.016