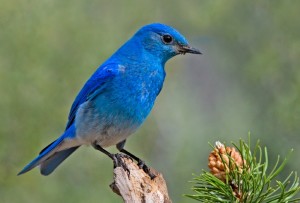 Get your binoculars ready and start counting some birds!
The Audubon Society's Annual Christmas Bird Count is officially slated to take place between Dec. 14 and January 5. However, many people still don't know about the event, which is in its 116th year. Approximately 72,000 volunteers from 2,40o locations across the Western Hemisphere take part in the event, so what's the big deal? Who needs to count birds, anyway?
A Brief History of the Annual Christmas Bird Count
Before the beginning of the 20th century, hunters used to make a sport out of hunting birds during this time of the year, rewarding whoever shot down the most creatures. Ornithologist Frank M. Chapman set out to change the tradition on Christmas Day in 1900. Instead, he proposed a Christmas Bird Census that would count the animals, rather than kill them.
Twenty-seven bird watchers took part in the very first Christmas Bird Count. Some of the participants resided in places ranging from Toronto, Ontario, to Pacific Grove, California. Although it was only a small group of people, about 90 species of birds were tallied in the first Christmas Bird Count.
How the Bird Count Works
Now that there are thousands of participants taking part in the event each year, the Audubon Society has added more structure to the Count. Local counts are held on a specific day between the dates of Dec. 14 and January 5. Participants need to make arrangements with a circle compiler, who collects the data, in order to contribute information to the Count. However, registration for the event is entirely free.
The Benefits of the Christmas Bird Count
Not only does the Annual Christmas Bird Count give researchers insight into the number of birds living in the Western Hemisphere, but it provides substantial information on specific species as well.
The Audubon Society has used past results to analyze other data, such as the Breeding Bird Survey, to determine how bird populations have changed over time. This information has helped preservationists identify environmental issues pertaining to the animals.
In 2009, the Christmas Bird Count data helped the North American Bird Conservation Initiative of the U.S. Fish and Wildlife Service publish its "State of Birds" report. CBC information also provided complementary insight for the Audubon's "Common Birds in Decline" report.
Whether you're a bird lover or you're just looking for a way to give back to Mother Nature before the end of the year, you might want to head outside for this significant event.
---
Sources
"History of the Christmas Bird Count." Audubon. Retrieved December 2, 2015.