No one family is responsible for more scientific paleontology discoveries than the Leakeys. Husband and wife, Louis and Mary, together with their sons, Jonathan and Richard, Richard's wife, Maeve, and their daughter, Louise, have helped to advance our understand of our ancestors and proven themselves to be the first family of paleontology with their seventy-plus combined years of field work in Africa. How the family patriarch was able to pass his passion on to two subsequent generations is an inspiring story of dedication and curiosity.
The son of missionaries, Louis Leakey was born and raised in Africa, spending most of his time in Kenya. When he was only 21 years old, in 1924, his research and observations of the native Kikuyu culture led him to theorize that the birthplace of man was in Africa, not Asia, as scholars of the time contended. The brash, young paleontologist, fresh out of Cambridge University, also believed that the human family tree extended back a lot further than anyone thought. He set out to prove this. He narrowed his search down to Tanzania's Olduvai Gorge and, in 1931, he started digging.
At the time, Louis Leakey was a newlywed. He married Frida Avern in 1928 and the couple had a newborn child, his first daughter, Priscilla, who was born in 1931. Soon, a young woman named Mary Nicol joined Leakey's dig. The two were immediately drawn together over their passion for ancient human and the thrill of discovery. Their working relationship progressed into a true love affair. Louis Leakey snubbed societal norms by divorcing his wife, who was pregnant with the couple's second child, Colin, and marrying Mary.
Mary Nicol Leakey is credited with making a number of historically significant finds, but her path to academia was thwarted by her rebel attitude. As a child, her family travel extensively and she learned to speak fluent French. Her knowledge of the ancient origins of humans was based on visits to sites such as the Pech Merle Caves of France, which is filled with prehistoric drawings. As a student at a Catholic convent, Mary boasted that she failed every exam given to her. She even failed French, despite speaking the language fluently. Mary's mother contacted Oxford University on Mary's behalf, but she was told that, based on Mary's poor academic record, she would not be admitted to the University. Years later, Oxford presented Mary Leakey with an honorary doctorate.
Working in the Olduvai Gorge, Louis Leakey unearthed the remains of hominids that dated back millions of years. His discoveries of Homo habilis and Homo erectus species of humans helped to fill in man's family tree. Additionally, he found numerous primate skeletons that helped to show the links between humans and modern primates.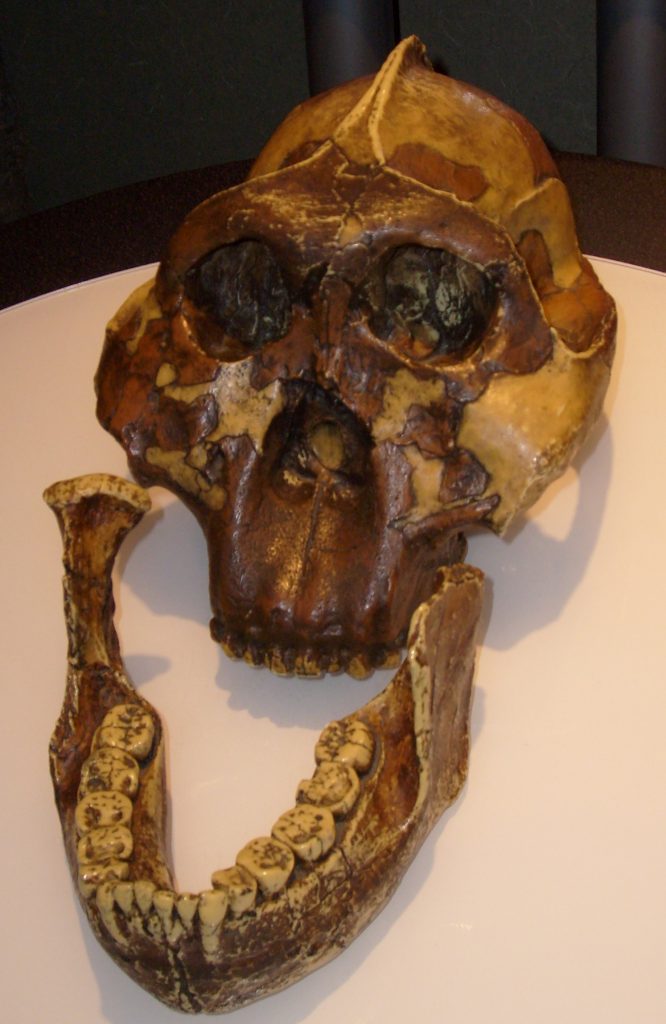 As for Mary Leakey, her most significant discovery at Olduvai Gorge was the Zinjanthropus cranium find of 1959. This discovery garnered global attention and helped with the birth of paleoanthropology as a distinct field of academia focused on the study of human origins. The scientific community took notice and the Leakey name became the gold standard in paleontology. The Leakeys' work even caught the eye of the National Geographic Society, who awarded the couple the financial support to continue their important work.
Louis and Mary Leakey had three children together, Jonathan, Richard, and Philip. Although all three boys spent a considerable amount of time at their parents' dig sites, Philip Leakey did not follow in the family business, instead becoming involved in Kenyan politics. His brother, Jonathan, also chose a career path away from paleontology, but he is credited with his only discovery, the OH-7 fossils, affectionately known as "Johnny's Child". As a twenty year old, Jonathan Leakey unearthed the OH-7 bones at the Olduvai Gorge. The bones were, at first, deemed a new species of human, but they are now categorized as Homo habilis.
It was the Leakey's middle son, Richard, who caught the family's paleontology bug and joined his parents in the field. Richard was headstrong and determined, and he and his father often butted heads. Richard Leakey, then married to his first wife, Margaret, an archeologist, began an excavation at Lake Turkana, near Koobi Fora, in Kenya, where he made his most important discoveries. He unearthed a skull of a Paranthropus boisei in1969, a discovery that brought him much acclaim. 1969 was a memorable year for Richard Leakey. In addition to this discovery, he also saw the birth of his first child, Anna, and then promptly divorced his wife. The next year, he married another paleontologist, Maeve Epps. The couple had two daughters, Louise and Samira. Leakey continued to find fossil evidence of early man in the Koobi Fora region, including complete skulls of several Homo erectus.
Working near Lake Turkana in 1999, Richard Leakey's wife, Maeve Leakey, discovered a 3.5 million year old skull and jaw of a previously-unknown member of the early human family. This find was named Kenyanthropus platyops, meaning the flat-faced man of Kenya.
In 1977, Richard and Maeve Leakey's daughter, Louise, became the youngest person to ever find a hominoid fossil. She was just six years old at the time and hanging around her parents' dig site. She went on to study geology and biology and earned a PhD from the University College, London, in 2001. She has led a push to bring paleontology into the 21st century by presenting informative Ted Talks about early man and by spearheading an initiative in which digital scans of fossils could be downloaded and 3D printed for educational purposed.
Louise Leakey married Prince Emmanuel de Marode of Belgium, a noted primatologist, and the couple has two daughters, Seiyia and Alexia.
Her grandfather, Louis Leakey, who died the year she was born, had an infectious enthusiasm and passion for the discovery of man's origins. His dedication seeped through his own family tree, inspiring several other Leakeys to take up the pick-ax and uncover ancient humans. The world of paleontology owes the Leakey family a debt of gratitude for advancing the field of study, calling world-wide attention to human origins, and inspiring generation of others to seek and find.
Editor's note: Learn more about Olduvai Gorge at Olduvai Geochronology Archaeology Project.
Sources:
Johanson, Donald C. "Anthropologists: The Leakey Family." Time. 29 Mar 1999. Web. 2 June 2018.
"Leakey Family". Biology References. Web. 2 June 2018.
"The Leakey Family Legacy". Biography.com, A&E Television. Web. 2 June 2018.