The latest fad in smoking is e-cigarettes, better known as "vaping" to those who indulge in the behavior. Electronic cigarettes provide smokers with the nicotine they look for in a convenient, liquid form, and the chemicals come in a wide variety of flavors. But how is the popularity of these devices changing traditional smoking?
National survey data found that after 15 years of no change, the quit-smoking rate rose almost six percent between 2014 and 2015, up from less than five percent in prior years. Now, researchers from the University of California – San Diego School of Medicine believe e-cigs are fueling the change.
"From 2014 to 2015, more e-cigarette users tried to quit cigarette smoking and succeeded in quitting than th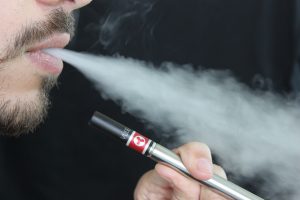 ose who didn't use e-cigarettes," Shu-Hong Zhu, director of the university's Center for Research and Intervention in Tobacco Control, told HealthDay News. ("More E-Cigarettes, Fewer Tobacco Smokers?," n.d.)
Diving Deeper into the Numbers
To find out exactly how e-cigs are changing the game, Shu-Hong Zhu and a group of researchers looked at a sample of data from e-cig users compiled between 2014 and 2015. They also examined smoking cessation rates from those who reported smoking cigarettes 12 months before the study was conducted. Data from previous studies was used as well for comparison purposes. (Zhu, Zhuang, Wong, Cummins, & Tedeschi, 2017)
The researchers found that 38.2 percent of current smokers and 49.3 percent of recent quitters had tried e-cigarettes. About 11.5 percent and 19 percent of them used e-cigs on a regular basis, respectively. In addition, 65 percent of e-cig users were more likely to attempt to quit smoking, compared to just 40 percent of non-e-cigarette users.
"The substantial increase in e-cigarette use among US adult smokers was associated with a statistically significant increase in the smoking cessation rate at the population level," concluded the authors of the report. "These findings need to be weighed carefully in regulatory policy making regarding e-cigarettes and in planning tobacco control interventions."
The Safety Surrounding E-Cigarettes
There is little to be said about the safety of e-cigs, as there has been little research done on these devices. The U.S. Surgeon General issued one of the first reports on e-cigs back in 2016, citing the dangers of the devices for youth – primarily because of their alluring flavors. ("E-cigarettes and Lung Health," n.d.)
However, the U.S. Food and Drug Administration is still struggling to tackle vaping and how to research its long-term effects. For now, the health implications seem like they will remain up in the air until more concrete research is conducted.
References
Zhu, S.-H., Zhuang, Y.-L., Wong, S., Cummins, S. E., & Tedeschi, G. J. (2017). E-cigarette use and associated changes in population smoking cessation: evidence from US current population surveys.
BMJ
, j3262.
https://doi.org/10.1136/bmj.j3262