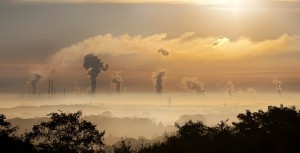 Before you start giving China grief over its pollution, take a moment to listen to the latest news from the Paulson Institute and Greenpeace.
Statistics show that in 2015, Beijing saw a 16 percent drop in its concentration of the most deadly type of air pollutant, according to The World Post. The air quality data, which was originally gathered by the U.S. Embassy in Beijing, indicates that 2015 was the cleanest year for the city since information collection began in 2008.
As for Beijing, its own environmental officials cited just a 6 percent improvement in air quality in 2015. Some experts believe that this comes after an overly optimistic pollution report was released in 2014.
A separate analysis conducted by Berkeley Earth found an 8 percent year-over-year decrease in cancer-causing particles across China as a whole between April and November of 2015. However, the researchers state that this information should not be perceived as a trend.
"It seems very clear that [the improved air quality] coincided quite perfectly with a fall in industrial coal consumption and improvements in emissions standards and enforcement for power plants and industry," Greenpeace Air Pollution Expert Lauri Myllyvirta told the news source.
China Begins to Clean Up Its Act
Over the past few months, China has made several moves to clean up its act in terms of pollution. In December 2015, the Asian Development Bank confirmed that it would be giving $300 million to clean up Beijing, as well as other areas of the Hebei province. The move was fueled by not only sick people, but businesses that were hurting as a result of the smog.
In return for the cash, the ADB expects China to continue reducing its carbon dioxide emissions. The news of the incentive came shortly after Beijing had issued a "red alert" on Dec. 8 in reference to pollution levels. Locals were encouraged to stay off the roads to reduce car usage and air pollution.
On this date, the air quality index had reached 250, which is 10 times higher than the World Health Organization's recommendations. It was the first red alert issued by Beijing since the alerts were created.
Long-term exposure to smog can cause lung disease and heart disease, and children and pregnant women are at a heightened risk.
---
Source
Sheehan, Matt. "How China Is (Surprise!) Winning Its War on Air Pollution." The World Post. January 7, 2016.