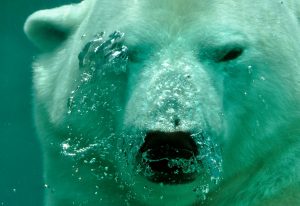 It's no secret that polar bears are having a hard time in today's world, especially with ongoing global warming. However, China might just have made matters worse with an exhibit that puts the bears' misery on display for the public to see.
A bear named Pizza housed at an "ocean theme park" at the Grandview shopping center in Guangzhou now has the title of "world's saddest polar bear." Video footage shows the bear laying on the floor of his cage with little movement. However, people aren't settling for the poor treatment of Pizza.
After members of the Animals Asia charity visited the aquarium in April, they quickly acted to change Pizza's situation. They began a petition, which more than 285,000 people have signed, to close the entire park. Thus far, it has not been shut down, but some moves have been made.
"As a result of the publicity, much of it is currently closed for redesign," said Dave Neale, the animal welfare director of Animals Asia. "We were told that 'Japanese experts' are behind what will be a relaunched attraction."
However, some are taking the news with a grain of salt.
"We were told that 'Japanese experts' are behind what will be a relaunched attraction. On one hand we have to be pleased that pressure has told so quickly – the original aquarium was only launched earlier this year," Neale continued. "On the other hand Japan's reputation for providing facilities with animal welfare in mind, isn't great. But we understand the remit is very much about improving care so we have to be hopeful – especially as they now know the world is watching. In addition, they have accepted our advice for better care and have agreed to listen to ongoing advice in the future."
Unfortunately, Pizza is not the only sad bear. In July, another one of the "world's saddest" polar bears passed away at Mendoza Zoo in Argentina. The bear, who was named Arturo, was housed at the zoo for 20 years. Multiple petitions had called for Arturo to be moved to a facility in Canada, which would be better suited for his wellbeing. He stayed in Argentina due to the risks involved in moving him – Arturo was considered to be older, in nature. When he passed away, he was 30 years old.
---
Sources
Bowerman, Mary. "Arturo the 'world's saddest polar bear' dies in Argentina." USA Today. Published July 6, 2016.
Phillips, Tom. "'World's saddest polar bear' exhibited in Chinese shopping centre." The Guardian. Published July 19, 2016.