Exercise can not only help you get that beach bod you want, but reduce your risk of cancer, too.
New research published in JAMA Internal Medicine shows that exercise may now help individuals reduce the risk of developing 13 different types of cancer. To draw their conclusions, the researchers looked at data from 12 large-scale studies involving 1.4 million men and women. They looked at how frequently they participated in physical activity, as well as how vigorousness of their exercises. From here, they made note of whether the participants had been diagnosed with cancer.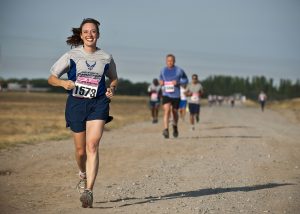 The statistics found that exercising moderately – even for short bouts of time – appeared to significantly reduce the risk of developing certain types of cancer. These included breast, lung and colon cancers. There was also a reduced risk of tumors in the liver, esophagus, kidney, stomach, endometrium, blood, bone marrow, head and neck, rectum, and bladder.
"Health care professionals counseling inactive adults should emphasize that most of these associations were evident regardless of body size or smoking history, supporting broad generalizability of findings," the authors concluded.
Interestingly, the research showed that there was an increased risk of melanoma and slow-growing prostate tumors in the study participants. However, Lead Author Steven Moore told the New York Times that these risks may be explainable. For instance, individuals who exercise more and live this type of lifestyle are more likely to get regular check-ups, increasing the odds of tumor detection. Additionally, people who work out frequently tend to do so outside under the sun.
In any case, the potential to reduce the risk of other types of cancer highlights the benefits of exercise, aside from getting a fitter-looking body. Science continues to prove the advantages of working out, giving couch potatoes a bit more motivation.
---
Sources
Moore, Steve. Lee, I-Min. Weiderpass, Elisabete. Campbell, Peter. Sampson, Joshua. Kitahara, Cari. Keadle, Sarah. Arem, Hannah. Berrington de Gonzalez, Amy. Hartge, Patricia. Adami, Hans-Olov. Blair, Cindy. Borch, Kristin. Boyd, Eric. Check, David. Fournier, Agnes. Freedman, Neal. Gutner, Marc. Johannson, Mattias. Khaw, Kay-Tee. Linet, Martha. Orsini, Nicola. Park, Yikyung. Riboli, Elio. Robien, Kim. Schairer, Catherine. Sesso, Howard. Spriggs, Michael. Van Dusen, Roy. Wolk, Alicja. Matthews, Charles. Patel, Alpa. "Association of Leisure-Time Physical Activity with Risk of 26 Types of Cancer in 1.44 Million Adults." JAMA. Published May 16, 2016.
Reynolds, Gretchen. "Exercise Tied to Lower Risk for 13 Types of Cancer." New York Times. Published May 18, 2016.