Picture, if you will, a group of campers enjoying an evening around the fire. As the sun sets, the woods darken around them. Nearby, on some rotting wood, the campers spot an eerie glow. Is it aliens? Is it radioactive goo? Nope! It's probably just a colony of Panellus stipticus, a trippy, glowing mushroom.
Panellus stipticus, more commonly known as bitter oyster mushrooms, was first described in 1783 by Jean Bulliard and was assigned its scientific name in 1879. Commonly found growing in dark and damp places, the bitter oyster mushroom likes to hang out among the decaying stumps and logs of deciduous trees, like oak and beech. At first glance, it is an unremarkable little fungus. It is light off-white to yellowish color that grows to a height of less than a half an inch. But when the sun goes down, these small mushrooms put on a show…a light show.
Bioluminescence is well-documented in the natural world. Fireflies, glow worms, lantern fish, and others are able to produce light to attract mates or prey. We know how this works. Fireflies can control the flow of oxygen into their light-producing organ. This oxygen combines with calcium, adenosine triphosphate, and luciferin, which contains the enzyme, luciferase, to produce a cold light. In fungi, the process is similar, yet different.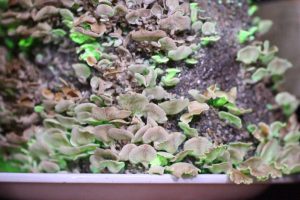 While luciferin, and its enzyme, luciferase, play a role in mushroom illumination, it was previously unclear exactly how this all occurs. Phys.org's article "Fungi Gets the Green Light: Chemical Basis for Bioluminescence in Glowing Fungi Uncovered" reported that a research team, led by Josef I. Gitelson and Ilia V. Yampolsky, were finally able to pinpoint the source of the light as hispidin, and antioxidant that glows when exposed to oxygen and luciferin. Glowing mushrooms are able to produce the two enzymes needed for the bioluminescence to occur.
Researchers have also worked to uncover the reason why some varieties of mushrooms – only 71 mushrooms of the more than 100,000 known varieties of mushrooms can emit light — glow in the dark. According Mike Hale in his article, "Some Mushrooms Glow in the Dark – Here's Why," a biologist and geneticist from the Dartmouth College named Jay Dunlap noted that people have developed several theories as to why certain mushrooms, like the Panellus stipticus, glow in the dark, but these theories were not concrete and lacked a further explanation. For example, some called the fungal bioluminescence a "useless byproduct of metabolism" and others simply said "it attracts insects."
Hale reports that Dunlap and his team posit that, by emitting light in the night, the mushrooms attract the ideal insects that can then help them disseminate their spores, thus aiding in propagation. For larger mushrooms or mushrooms that grow high up a tree trunk, spores are easily dispersed in the wind, which can spread the spores across a large area. For Panella stipticus and other small mushrooms that grow on the ground, however, this is not an ideal method of spreading spores. Another method is needed to ensure that the spores are spread, which is where Dunlap's research comes in. To prove their theory, Dunlap fabricated fake mushrooms equipped with LED lights and positioned them around deciduous forests. Infrared camera recorded both the types of insects that visited the glowing mushrooms and the behavior of the insects. They believe their experimentation proves that bioluminescence is a function of the mushroom's reproductive system.
So that group of campers in the middle of the woods shouldn't be alarmed by the weird glow coming from the tiny mushrooms on rotting logs. Instead, they should marvel at the chemical process of bioluminescence and the ingenuity of the Panellus stipticus.
Sources:
"Fungi Get the Green Light: Chemical Basis for Bioluminescence in Glowing Fungi Uncovered." Phys.org – News and Articles on Science and Technology, 19 June 2015. Web. 22 Aug. 2017.
Hale, Mike. "Some Mushrooms Glow in the Dark – Here's Why." The Conversation, 21 July 2017. Web. 22 Aug. 2017.
Greenfield Boyce, Nell. "Why Some Mushrooms Glow in the Dark." NPR, 21 Mar. 2015. Web. 21 Aug. 2017.
Klein, Joanna. "Hunting Mushrooms, and What Makes Some Glow in the Dark." The New York Times, 27 Apr. 2017. Web. 22 Aug. 2017.
Kuo, Michael. "Panellus stipticus." MushroomExpert.com, May 2017. Web. 21 Aug. 2017.