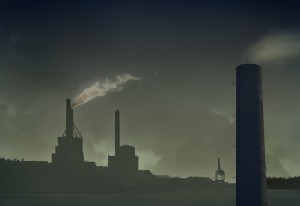 You might not think twice about the smog you see hovering over your city, but you're breathing it in every day. Furthermore, new research shows that it is having a direct impact on your lifespan.
A study published in the Sept. 16 issue of Nature shows that 3.3 million people die around the world each year from air pollution. This number could reach 6.6 million by 2050, according to Forbes. Industry, transport, agriculture, fossil-fueled power plants and domestic energy use are to blame, creating the pollutants that can harm us every day.
The more severe air pollutants are fine particulates that have a diameter of less than 2.5 micrometers. These particulates get into the lungs and cause health conditions, such as obstructive pulmonary respiratory disease, heart disease, stroke and lung cancer.
"We primarily assume that all particles are equally toxic, but also include a sensitivity study that accounts for differential toxicity," wrote the authors of the study." We find that emissions from residential energy use such as heating and cooking, prevalent in India and China, have the largest impact on premature mortality globally, being even more dominant if carbonaceous particles are assumed to be most toxic. Whereas in much of the USA and in a few other countries emissions from traffic and power generation are important, in eastern USA, Europe, Russia and East Asia agricultural emissions make the largest relative contribution to particulate matter."
About three-quarters of the premature deaths related to air pollution were as a result of strokes and heart attacks. Twenty-seven percent could be linked to respiratory diseases, such as lung cancer.
However, it isn't just general air pollution that's killing us. "Bad" ozone that can be found at ground level is another pollutant causing problems. It is created by the chemical reactions of oxides and nitrogen with VOCs in the presence of sunlight. Ozone can cause shortness of breath, as well as a nasty, long-lasting cough.
Alright, so you may not be able to do anything about the fossil fuel-guzzling factories, but what can you do from an individual standpoint? The U.S. Environmental Protection Agency says you can start by recycling what you can, as well as maintaining your wood-burning stoves and fireplaces. When you make renovations to your home, verify that you are using low-VOC materials (e.g., paint, carpeting). Finally, do your best to conserve energy when possible. Turn off appliances and lights when they aren't in use.
They may seem like tiny steps and changes to your everyday life, but they can make a big difference when it comes to the preservation of our planet.
---
Sources
J. Lelieveld, J. S. Evans, M. Fnais, D. Giannadaki & A. Pozzer. "The contribution of outdoor air pollution sources to premature mortality on a global scale." Nature. September 17, 2015.
Mullin, Emily. "Here's How The Air You Breathe Could Be Killing You." Forbes. September 17, 2015.
"Ways to Reduce Air Pollution." U.S. Environmental Protection Agency. Retrieved September 24, 2015.