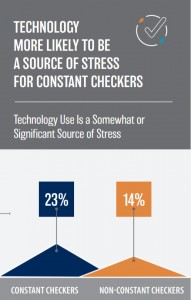 Do you find yourself getting stressed out over the conversations you see happening on social media? If so, you're not alone, according to new research from the American Psychological Association (Shanker, 2017).
Recently, researchers took a look at how Americans are bearing the brunt of what they see on social media. They conducted the "Stress in America" survey in 2016 in conjunction with Harris Poll. Between August 5 and 31, a total of 3,511 adults ages 18 and older were questioned about their social media use. The majority of those surveyed – 1,306 respondents – were Millennials (18-37 years old) ("Stress in America," n.d.).
For starters, the research showed that at least 99 percent of respondents owned at least one electronic device. About nine-in-ten people said they owned a computer, while 74 percent had an internet-connected smartphone, highlighting the connectivity of the audience.
The researchers also found that social media usage among American adults rose from 7 percent to 65 percent between 2005 and 2015.
"Adoption rates among all groups of new and emerging technologies and social media have climbed to enormous proportions, with Facebook and Instagram boasting more than 2 billion combined monthly users," the authors wrote in their report.
The researchers also argued that a profile is emerging of what they call "the constant checker." This is an individual who frequently checks his or her emails, texts and social media accounts. According to their data, the researchers believe that 43 percent of Americans qualify as "constant checkers."
Linking Social Media and Stress
While it may seem like a good thing to stay in touch, the survey suggests that stress can be linked to being a "constant checker." ("Smartphones Are Really Stressing Out Americans," n.d.) About 18 percent of respondents said that technology is a "very" or "somewhat" significant source of stress for them. However, it is more likely to be a source of stress for "constant checkers" (23 percent) than non-constant checkers (14 percent).
Additionally, 42 percent of "constant checkers" say that political and cultural discussions that take place on social media cause them stress. This is compared to just 33 percent of non-constant checkers who said the same.
Out of all of this data, one thing is for certain – our world has seemingly become synonymous with social media. That being said, is it time to take a step back and reexamine the importance of disconnecting once in a while? Considering some of the side effects associated with stress, it might not be a bad idea.