As the stigma of mental illness continues to make headlines, Walgreens is stepping up to do its part in the fight against discrimination. The pharmaceutical store chain announced on May 10 that it would be launching an online portal for mental health, utilizing a number of third-party resources. Walgreens will also be encouraging the use of online screen tools provided by outside companies.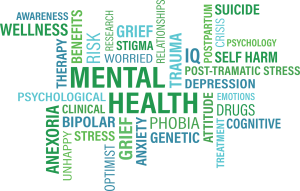 "Walgreens is dedicated to championing everyone's right to be happy and healthy, and our commitment extends to supporting our customers and patients to both good physical and mental health," said Alex Gourlay, Walgreens president. "We're proud to help meet the need for mental health resources in our communities, to encourage those who have questions or concerns to seek answers, and to work closely with other providers and partners to help more people get the support and services they need."
Walgreens has formed a partnership with Mental Health America, a community-based nonprofit organization geared toward addressing the needs of individuals living with mental illness. Together, Walgreens and MHA will connect people to online screening resources for conditions ranging from PTSD to bipolar disorder. The MHA will also be able to facilitate follow-up treatment and care through providers and specialists in local communities.
"Mental Health America is very pleased to partner with Walgreens this way," said Paul Gionfriddo, president and CEO, Mental Health America. "Walgreens is a trusted part of the fabric of so many local communities in which we and our affiliates work. Mental Health Month has been MHA's signature wellness event since 1949, and our online mental health screening program has rapidly become an amazing year-round way to reach people who have mental health concerns with helpful information and supports."
Upon logging onto Walgreens' mental health website, there are featured articles that address everything from finding the right mental health treatment to understanding schizophrenia myths. Therapist video chat, free screening tools, and MHA local assistance are also front and center upon accessing the page.
One in five U.S. adults experiences mental illness in any given year, according to the National Alliance on Mental Illness. Mental disorders cost the U.S. $193 billion in lost earnings annually.
---
Sources
Vincent, James. "Walgreens now connects you to video therapy for mental health issues." The Verge. Published May 11, 2016.
Beaudet, Mike. "Taunton killing spree raises questions about Mass. Mental health system." WCVB. Published May 11, 2016.